Refresh

You must be a registered member for more
than 1 day before you can use our chatbox.

Hourly Damage Variances

| | |
| --- | --- |
| | Leopard : -1 |
| | Anaconda : -3 |
| | Red Fox : +5 |
Winter Month: 2 Day Weather: Blizzard

Wolf Page


---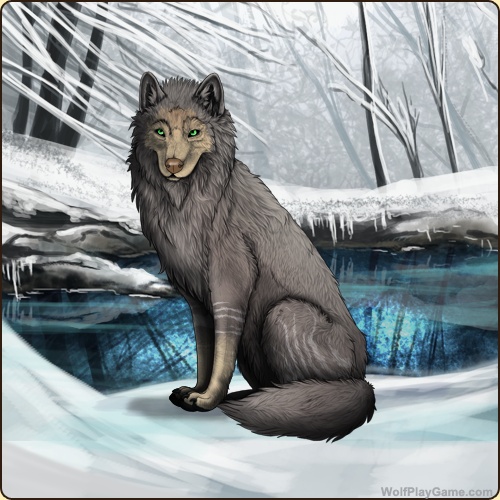 ---
→ Wolf Play is a fun game! Sign Up Now! ←
"Silver Rain"
| | |
| --- | --- |
| | 0 Paws Up |
Wolf Number: 3894503
Gender: Female
Age: Deceased
Deathdate: Dec 5, 2022
Death Age: 18
Pack: The Heavens
Breeder: Talen
Rank:
Weight: 121 Pounds
Build: Long
Total Battle Earnings: 0
Total Mush Found: 0

Birthdate: May 23, 2022
Sire: G2 Khalay✯
Dam: G1 Raigray
Mood: Content
Battle Experience: 0
Playfulness: Medium
Birth Defect: None
Boost: None
Fur Type: Thin

Offspring Count: 54
Bred This Year: 0
Total Times Bred: 19
Affinity W/Your Pack: Excellent
Talent: None
Injury: None

Sales History
Eyes: Green (Common)
Nose: Dark Liver (Common)
Base Coat: Slate (Common)
Leg Type: Low
Leg Color: Cream

Head Type: Small Facemask
Head Color: Cream

Okapi: Silver
Ear Edges Type: Tip
Ear Edges Color: None

Rarity Score: 11
Biography
Silver Rain was born in the winter to the Alphas. That season, she found 10 mushrooms. Next summer, her grandfather and mother both passed away, which caused her to obtain the rank of Alpha. In the winter of her juvenile year, she and her mate led the pack from the desert to the mountains. Then, Silver Rain found 10 mushrooms. In the spring of Silver Rain's sixth year, the pack moved from the mountains to the tundra. In the fall, her father passed away. Then, she found 20 mushrooms. In the winter, her daughter Thunder was born. The next spring, her mate passed away due to old age. In the following spring, she took a new mate. Next spring, her older brother passed away in a hunting accident. We followed the pack from the tundra to the mountains during the fall of Silver Rain's fourteenth year.

Breeding Info
N/A




Personality
Silver Rain, like her mother, is a private and shy wolf. That being said, she seems to be extremely strict about her role as Alpha, striving to fill her predestined role. She can be strict with her packmates, but always returns to her den afterwards, as she seems to find social interactions draining. She seems to favour the hunters of the pack.

Preferences
Call sings to Silver Rain in private.
A juvenile licks Silver Rain.
Silver Rain wakes up Storm.
Silver Rain chases her tail.
Silver Rain finds a nest of baby birds and eats them.
Shoreline challenges Silver Rain for dominance.
Twilight of pack Embers gossips with Silver Rain.
Silver Rain and Cloud go to the stream to drink.
Silver Rain calls Enzo over to share a rabbit.
Silver Rain wonders what Montak will think of the item that she found.
Silver Rain ventures out of pack territory and is scolded by her mate.
Cloud stalks Silver Rain because he is protective of his younger sister.
Silver Rain tackles Shoreline to the ground.
Silver Rain wakes up from a nap to see Shoreline staring at her.
Timber teaches Silver Rain how to stalk.
Silver Rain bonds with Dusk.
Silver Rain and Fox play tug of war over a deer hide.
Maelstrom begs for food from Silver Rain.
Silver Rain and Maelstrom race to the creek.
Silver Rain steals a bone from Forest and bolts off.
Silver Rain licks Thunder's nose playfully.
Silver Rain saunters past Forest.

Special Skills
Hero!

Silver Rain gets mad at the Alphas' new rules (but you are the Alpha...).



Total Character Points: 73

Here is a list of creatures this wolf has defeated.