Refresh

You must be a registered member for more
than 1 day before you can use our chatbox.

Hourly Damage Variances

| | |
| --- | --- |
| | Cougar : +3 |
| | Coyote : -3 |
| | Coyote : +1 |
Spring Month: 1 Day Weather: Flood

Wolf Page


---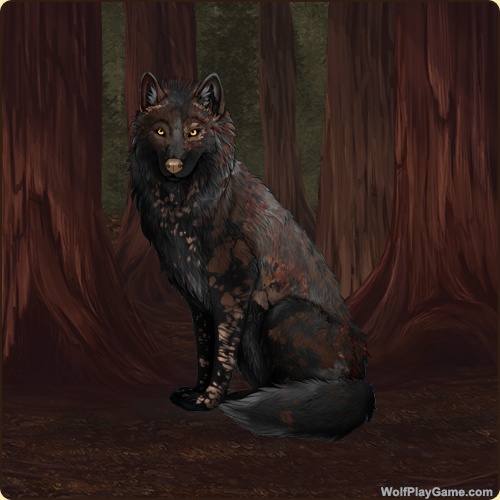 ---

Wolf Play is a fun game! Sign Up Now!


| | |
| --- | --- |
| | 1 Paws Up |
Wolf Number: 3156532
Gender: Female
Age: Deceased
Deathdate: Jun 28, 2021
Death Age: 20
Pack: The Heavens
Breeder: TheSpiritedWolfPack
Rank:
Weight: 150 Pounds
Build: Muscular
Total Battle Earnings: 2594
Total Mush Found: 393

Birthdate: Nov 18, 2020
Sire: Grimmauld🌳
Dam: Seray G2 AC HW H+13 ExH
Mood: Content
Battle Experience: 940
Playfulness: Low
Birth Defect: None
Boost: None
Fur Type: Long

Offspring Count: 37
Bred This Year: 1
Total Times Bred: 13
Affinity W/Your Pack: Excellent


Talent: Stealth Resolve


Talent Count: 2
Injury: None

Sales History
Eyes: Topaz (Uncommon)
Nose: Dark Liver (Common)
Inner Ears: Obsidian
Base Coat: Reverse Bonfire (Legendary)
Leg Type: Stripes
Leg Color: Obsidian

Head Type: Cheeks
Head Color: Obsidian
Tail Type: Two Rings
Muzzle Type: Stripe
Muzzle Color: Black
Harlequin: Hickory

Back Type: Spike
Back Color: Black
Back Type #2: Ocelot
Back Color #2: Obsidian
Brindle: Cider 1
Piebald 2: Obsidian
Belton: Hickory
Okapi: Black
Leopard: Obsidian
Speckle Type: Shoulder
Speckle Color: Black
Ear Edges Type: Tip
Ear Edges Color: Black

Rarity Score: 96
Biography
We're sick and tired of wondering


Praying to a God that you don't believe


We're searching for the truth in the lost and found


So the question I ask is...


where the FUCK is your god NOW?
Personality
N/A

Preferences
Songs:

Stacking Bodies- Fit for a King
Popular Monster- Falling in Reverse

Special Skills
N/A



Total Character Points: 3000

Here is a list of creatures this wolf has defeated.



Squirrel
306

Rabbit
276

Pheasant
1

Deer
3

Elk
3

Chipmunk
2

Turkey
1

Moose
1

Red Fox
149

Badger
134

Boar
4

Mountain Lion
2

Coyote
3

Brown Bear
1

Woodchuck
1

Skunk
1

Raccoon
3

Opossum
4

Wood Duck
1

Mamba
1

Sloth
1

Coyote
1

Jackal
1

Thorny Devil
3

Kangaroo Rat
1

Javelina
1

Pika
1

Snowshoe Hare
2

Grizzly Bear
2

Red Fox
1

Western Rattlesnake
1

Bobcat
3

Caribou
2

Arctic Hare
1

Musk Ox
2

Rock Ptarmigan
1

Polar Bear
1

Arctic Fox
1

Ermine
2

Grizzly Bear
3

Nordic Warrior Man
1

Nordic Warrior Woman
1

Young Jormunand
2

Young Hel
1

Young Fenrir
1