Refresh

You must be a registered member for more
than 1 day before you can use our chatbox.

Hourly Damage Variances

| | |
| --- | --- |
| | Cougar : +4 |
| | Ermine : -2 |
| | Baboon : 0 |
Season: Summer Month: 3 Weather: Clear Moon:

| | |
| --- | --- |
| Time Of Day: Night | Explore In: Now |

Wolf Page


---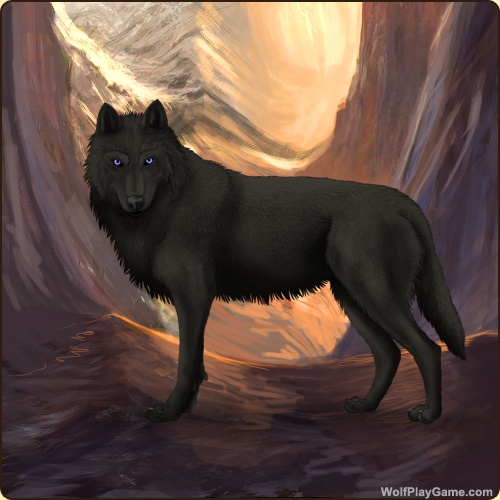 ---

Wolf Play is a fun game! Sign Up Now!


| | |
| --- | --- |
| | 5 Paws Up |
Wolf Number: 2912422
Gender: Male
Age: Deceased
Deathdate: Dec 14, 2020
Death Age: 18
Pack: The Heavens
Breeder: Verdict
Rank:
Weight: 150 Pounds
Total Battle Earnings: 3817
Total Mush Found: 7

Birthdate: May 28, 2020
Sire: Newt Scamander🦎
Dam: Fawkes🍁
Mood: Content
Battle Experience: 747
Playfulness: High
Birth Defect: Melanism
Boost: None

Offspring Count: 495
Bred This Season: 1
Total Times Bred: 165
Affinity W/Your Pack: Ok


Talent: Social Battle Spirituality


Talent Count: 4
Injury: None
Sales History
Eyes: Light Blue (Common)
Nose: Liver (Common)
Inner Ears: Cream
Base Coat: Champagne (Common)
Leg Type: Front Socks
Leg Color: Cream

Head Type: Frontal
Head Color: Cream
Tail Type: Three Rings
Muzzle Type: Stripe
Muzzle Color: Tan
Harlequin: Cream
Somatic Mutation: Tan

Back Type: Side Splash
Back Color: White
Back Type #2: Side Splash
Back Color #2: Hickory
Shoulder: Cream
Brindle: Cream
Piebald 1: Cream
Belton: Cream
Okapi: Cream
Leopard: Brown
Speckle Type: Full
Speckle Color: White
Ear Edges Type: Full
Ear Edges Color: White

Rarity Score: 59
Biography
His breeding fee will be anywhere from 150-200 mush! 1 Apple gets you all 3 breedings, and 1 jasmine gets you 2 breedings.
Personality


Grimmauld has been shaped by the many obstacles he had faced and overcome. He was born to the alpha pair in a sanctuary, along with 2 sisters. They both quickly succumbed to a rare genetic disease, a side effect from years of genetic experimentation on the wolves in the sanctuary. Grimmauld lived, but had his own defect. His coat has been tarnished by the Melanism defect, causing his pelt to appear pure black, deleting any genetic colors he would have had.

Grimmauld grew up self conscious of his defect. Eventually he learned to accept it and use it to his advantage, however meeting strangers was always a tense situation. He quickly grew to fill his role in the pack, as the future alpha. He was bold and comfortable around his pack, but could appear awkward around new wolves. He enjoyed roaming the sanctuary in his free time, discovering new sights and hunting grounds.

Grimmauld enjoys making new wolves feel safe and comfortable in their own skin, since he understands how differences are not always accepted. His pack members would describe him as calm under pressure, a fair leader, and a humble son. He will step up to fill a vacancy in the pack, and has a great respect for the breeding females and pups in his pack.

Physical Appearance

Grimm is not a small wolf by any standards. He is the largest wolf in the sanctuary, with massive shoulders and gigantic paws. His black fur is silky and thick, slightly longer than most other wolves. It allows him to be a master of the night, hunting nocturnal prey that other pack members cannot. He has never been in a real fight with another wolf, but excells in close range combat. He is stealthy for his size, but lacks the agility to outrun most others.

Preferences
~G2
~Male
~59 AC rarity
~150 lbs
~+11 hero
~Mela

Special Skills
Grimm here is my very first character EVER used in an RP!



Total Character Points: 1077

Top 10 Breeding Wolves - Grimmauld🌳
(54)
Top 5 Total Times Bred - Grimmauld🌳
(1)
Top 10 Total Times Bred - Grimmauld🌳
(5)
Here is a list of creatures this wolf has defeated.



Squirrel
54

Rabbit
59

Pheasant
22

Deer
7

Elk
2

Chipmunk
6

Turkey
8

Moose
7

Red Fox
29

Badger
26

Boar
18

Wolverine
16

Bobcat
8

Mountain Lion
11

Coyote
4

Brown Bear
16

Woodchuck
6

Skunk
6

Raccoon
6

Opossum
3

Hedgehog
2

Beaver
7

Armadillo
6

Ant Eater
2

Bullfrog
13

Rice Rat
8

Marsh Rabbit
10

Anhinga
5

Otter
2

Wood Duck
5

Nutria
1

Tapir
1

Rattlesnake
10

Ocelot
1

Copperhead
3

Alligator
3

Jaguar
3

Water Moccasin
3

Caiman
1

Baboon
9

Leopard
10

Mamba
14

Crocodile
5

Jaguar
15

Sun Bear
11

Anaconda
12

Margay
6

Death Adder
20

Capybara
10

Tapir
9

Antelope
20

Water Buffalo
1

Spider Monkey
20

Sloth
12

Okapi
3

Flying Fox
9

Bongo
9

Bandicoot
14

Green Python
17

Komodo Dragon
14

Vicuna Wolf
6

Poison Dart Frog
21

Peccary
10

Coatimundi
10

Weretiger
1

Bengal Tiger
14

Undead Bear
7

Undead Brad
6

Undead Larry
6

Yule Lad
1

Hans Trapp
1

Belsnickel
1

Eve
2

Dip
2

Gwyligi
2

Yeth Hound
5

Gytrash
1

Gwyn ap Nudd
1

Werewolf
1

Fisherman
3

Hiker
1

Camper
2

Jogger
2

Nordic Warrior Woman
1
Import This Wolf Into The Custom Maker
Copy Wolf Image