Hourly Damage Variances

| | |
| --- | --- |
| | Bobcat : -5 |
| | Badger : +3 |
| | Western Rattlesnake : -1 |
Season: Winter &nbsp Month: 2 &nbsp Weather: Light Snow
Time Of Day: Day

Wolf Page


---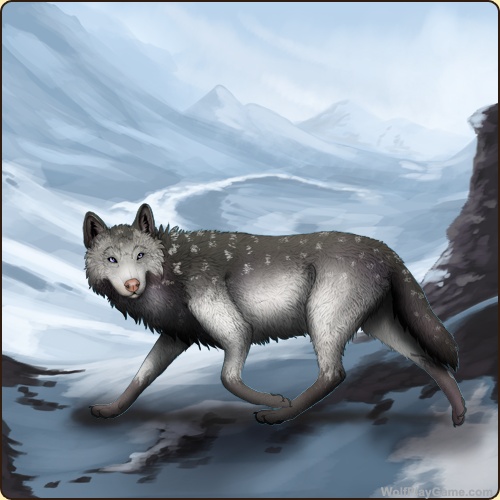 ---

Wolf Play is a fun game! Sign Up Now!


| | |
| --- | --- |
| | 15 Paws Up |
Wolf Number: 1688562
Gender: Male
Age: Deceased
Deathdate: Sep 17, 2018
Death Age: 17
Pack: The Heavens
Breeder: Serial Dreamer
Rank:
Weight: 150 Pounds
Total Battle Earnings: 29375
Total Mush Found: 9045

Birthdate: Mar 4, 2018
Sire: Seuss
Dam: Insula Arcana
Mood: Content
Battle Experience: 5564
Playfulness: High
Birth Defect: None
Boost: Divine Health

Offspring Count: 776
Bred This Season: 0
Total Times Bred: 178
Affinity W/Your Pack: Very Bad


Talent: Morals


Talent Count: 1
Injury: None
Sales History
Eyes: Dark Blue (Common)
Nose: Pink (Common)
Inner Ears: Black
Base Coat: Silver (Common)
Leg Type: Low
Leg Color: Black

Head Type: Throat
Head Color: Black
Tail Type: Full
Muzzle Type: Wide
Muzzle Color: White
Harlequin: Silver
Somatic Mutation: Silver

Back Type: Full
Back Color: Black
Shoulder: Black
Brindle: Silver
Piebald 1: Silver
Belton: Silver
Okapi: Silver
Leopard: Silver
Speckle Type: Full
Speckle Color: White
Ear Edges Type: Full
Ear Edges Color: Black

Rarity Score: 55
Biography
55RS/1T/CH G2 Heavyweight High Play Divine Health.
Customised on March 5, 2018.
His name means regal silver in Latin and was suggested by Vox Nihili. <3
He weighs 150 pounds.


Breeding reservations:

Spring:
None yet.

Summer:
None yet.


Autumn:
None yet.

Winter:
None yet.

Huge thanks to Apothecary for providing the apples to customise him! <3

Reached 4000 BE on August 26, 2018, aged 16.

Reached 5000 BE on September 7, 2018, aged 17.
Personality
A noble and honourable warrior as well as a sweet, easygoing wolf, Argentum Regale is definitely one of the most popular wolves in the pack.
The last pup of the beloved Insula Arcana and the only to have Divine Health, he has been regarded as a prodigy since his birth and was taken in and raised by Markus and Evelyn after his mother passed away.
Under their care, he grew into a handsome, chivalrous male - of course learning many tricks from his adoptive father, Markus. He grew up alongside Salvatrix, daughter of the Alphas and born around the same time as him, and they have since become inseparable. The special bond they share allows them to hunt together perfectly, even without sharing a word or howl.
Argentum is not famous just for his respectable battle prowess, however; his gentle and charming personality doesn't go unnoticed by females and as a result he is a very successful breeder.
He enjoys spending time with his children and will often visit allied packs' territories to see and interact with his offspring in his free time, always making sure to praise them for their achievements and encourage them to keep aiming to reach ever higher.
The 'silver warrior with a heart of gold', as he's often called, Argentum is adored by wolves around the realm and widely considered to be one of the kindest, most pleasant Dreamers to be around.

Preferences
N/A

Special Skills
Sired twin G3 DH pups on June 22, 2018, bred by Midnight Freakshow (#165583)!

Sired another set of twin G3 DHs on September 6, 2018, bred by me!



Total Character Points: 2637

Top 10 Breeding Wolves - Argentum Regale
(57)
Top 5 Breeding Wolves - Argentum Regale
(7)
Top 10 Total Battle Earnings - Argentum Regale
(29)
Top 5 Total Mush Found - Argentum Regale
(10)
Top 10 Total Mush Found - Argentum Regale
(16)
Top 5 Total Times Bred - Argentum Regale
(3)
Top 10 Total Times Bred - Argentum Regale
(8)
Here is a list of creatures this wolf has defeated.



Squirrel
457

Rabbit
537

Pheasant
71

Deer
63

Elk
56

Chipmunk
60

Turkey
54

Moose
50

Red Fox
335

Badger
299

Boar
221

Wolverine
209

Bobcat
150

Mountain Lion
178

Coyote
195

Brown Bear
126

Woodchuck
69

Skunk
58

Raccoon
67

Opossum
46

Hedgehog
46

Beaver
55

Armadillo
73

Ant Eater
58

Big Foot
7

Baboon
80

Leopard
75

Mamba
81

Crocodile
67

Jaguar
81

Sun Bear
70

Anaconda
94

Margay
72

Death Adder
78

Capybara
60

Tapir
67

Antelope
95

Water Buffalo
8

Spider Monkey
63

Sloth
88

Okapi
23

Elephant
3

Flying Fox
55

Bongo
40

Bandicoot
66

Green Python
58

Komodo Dragon
92

Vicuna Wolf
75

Poison Dart Frog
73

Peccary
78

Coatimundi
59

Weretiger
4

Bengal Tiger
73

Ibex
8

Mule Deer
6

Snowshoe Hare
2

Moose
4

Beaver
7

Mountain Goat
1

Hyrax
5

Alpaca
4

Bighorn Sheep
5

Elk
9

Grizzly Bear
3

Red Fox
7

Western Rattlesnake
5

Bobcat
10

Cougar
6

Jackal
7

Mojave Green Rattler
2

Leopard
6

Coyote
6

Black Bear
6

Caribou
2

Arctic Hare
3

Musk Ox
1

Rock Ptarmigan
4

Harlequin Duck
5

Ground Squirrel
1

Snowshoe Hare
6

Reindeer
10

Puffin
3

Moose
3

Lemming
5

Polar Bear
14

Arctic Fox
19

Ermine
23

Grizzly Bear
3

Wolverine
15

Red Fox
13

Eve
7
Import This Wolf Into The Custom Maker