Refresh

You must be a registered member for more
than 1 day before you can use our chatbox.

Hourly Damage Variances

| | |
| --- | --- |
| | Spotted Hyena : +1 |
| | Grizzly Bear : +2 |
| | Jaguar : +2 |
Season: Spring Month: 2 Weather: Sunny Moon:

| | |
| --- | --- |
| Time Of Day: Day | Battle Explore In: Now |

Wolf Page


---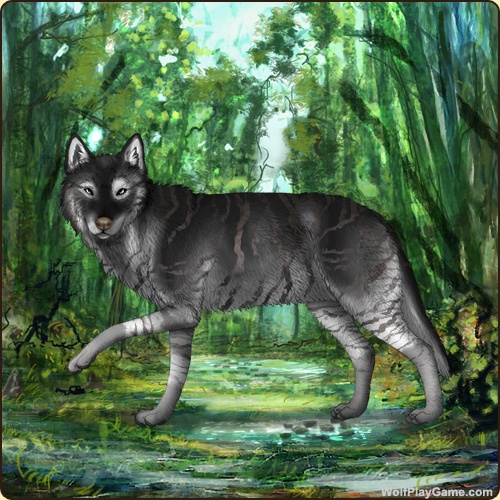 ---

Wolf Play is a fun game! Sign Up Now!



"Enzo"
| | |
| --- | --- |
| | 3 Paws Up |
Wolf Number: 3778229
Gender: Male
Age: 14
Pack: Talen
Breeder: TragicallyFunny
Rank: Alpha Male
Weight: 140 Pounds
Total Battle Earnings: 0
Total Mush Found: 0

Birthdate: Mar 1, 2022
Sire: Unknown
Dam: Unknown
Mood: Content
Battle Experience: 0
Playfulness: Medium
Birth Defect: None
Boost: None

Offspring Count: 21
Bred This Season: 1
Total Times Bred: 8
Affinity W/Your Pack: Ok


Talent: Stealth Luck Maternal Social Empathy Morals Composure Charisma Agility


Talent Count: 17
Injury: None
Sales History
Currently Bred To
Eyes: Light Brown (Common)
Nose: Dark Liver (Common)
Base Coat: Winter (Dynamic)
Leg Type: Mitts
Leg Color: None

Head Type: Large Facemask
Head Color: None
Tail Type: Tip

Back Type: Thylacine
Back Color: None
Brindle: Black
Okapi: Blue
Speckle Type: Shoulder
Speckle Color: None

Rarity Score: 61
Biography
Enzo's first pack was the Tragically Funny pack, which he joined in his third year. However, he quarrelled frequently with the other wolves, and left the Tragically Funny pack for the Dark Woods pack in the spring of his fourth year. Enzo stayed with the Dark Woods pack for many years, during which he produced three litters. However, in the fall of his eleventh year, Enzo was feeling restless and had ventured beyond the borders of the Dark Woods pack when he encountered Silver Rain of Talen pack. She reacted favourably towards his presence, and he seemed to find her appealing as well; he left the Dark Woods pack to join Silver Rain as the couple became the new Alphas of Talen pack. In the winter of that year, Enzo moved with his new pack from the desert to the mountains.
Personality
Enzo is an older wolf, not capable of as much of the rough-housing as his mate or new packmates. It is clear that he is eager to ingratiate himself with the wolves of Talen pack, as he goes out of his way to socialise with them. Enzo's mate is Silver Rain, and he gets along extremely well with all pack members except for Call and Shoreline.

Preferences
Enzo eats something rotten and immediately throws up.
Enzo's juvenile growls dominantly at him.
Enzo snuggles up to Cloud for warmth.
Cavern gives Enzo a rose.
Silver Birch nuzzles Enzo.
Enzo play bows to Storm.

Special Skills
Heavyweight!


Enzo saunters up to Sniff (a Fox/Shoreline pup) batting his eyelashes.



Total Character Points: 366

Here is a list of creatures this wolf has defeated.


Import This Wolf Into The Custom Maker
Show Page Link
Copy Wolf Image