Refresh

You must be a registered member for more
than 1 day before you can use our chatbox.

Hourly Damage Variances

| | |
| --- | --- |
| | Spotted Hyena : +1 |
| | Grizzly Bear : +2 |
| | Jaguar : +2 |
Season: Spring Month: 2 Weather: Sunny Moon:

| | |
| --- | --- |
| Time Of Day: Day | Battle Explore In: Now |

Wolf Page


---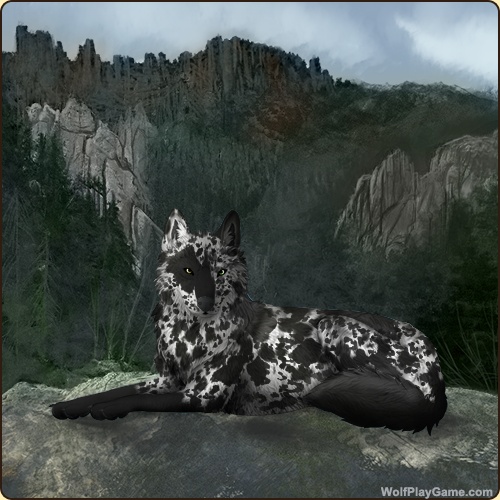 ---

Wolf Play is a fun game! Sign Up Now!



"♦"
| | |
| --- | --- |
| | 3 Paws Up |
Wolf Number: 3766584
Gender: Female
Age: 12
Pack: Emrys
Breeder: Dream walker
Rank: Beta Female
Weight: 130 Pounds
Total Battle Earnings: 275
Total Mush Found: 71

Birthdate: Feb 21, 2022
Sire: Ares
Dam: Wisdom Seeker
Mood: Content
Battle Experience: 108
Playfulness: Very High
Birth Defect: None
Boost: None

Offspring Count: 9
Bred This Year: 0
Total Times Bred: 3
Affinity W/Your Pack: Ok


Talent: Stealth Perception Maternal Morals Wisdom Agility


Talent Count: 10
Injury: None
Sales History
Eyes: Gold-Green (Common)
Nose: Black (Common)
Base Coat: Dalmation (Common)
Leg Type: Low
Leg Color: Obsidian

Head Type: None
Head Color: Obsidian
Tail Type: Full
Muzzle Type: Stripe
Muzzle Color: Obsidian
Harlequin: Obsidian

Back Type: Sooty 2
Back Color: None
Back Type #2: Spike
Back Color #2: None
Belton: Obsidian
Leopard: Obsidian
Speckle Type: Full
Speckle Color: None
Ear Edges Type: None
Ear Edges Color: Ochre

Rarity Score: 28
Biography
Formally "Rue"
----------------
Selkie was found as a young wolf on the sea cliffs of a nearby beach, collapsed mere feet from a pod of seals. When she was approached by Éira and Crown, she struggled to even lift her head, but still blinked at them in respect, and the two wolves took her in soon after. When they arrived back at the den, the beta male, Merrow, coined her with the name "Selkie", as she was found so close by to the seals inhabiting the island. As one of the first wolves to join Emrys, she was swiftly appointed to the position of Beta Female, where she not only helped to manage resources but also guided and taught young pups out on expeditions. She is viewed as a valuable member of the pack and dedicates herself to its wellbeing and protection, and has long since made a name for herself among the packmembers.

Personality
Selkie wriggles their tail at Merrow.
☼ Morrígan cuddles with Selkie
☼ Morrígan and Selkie perform a duet howl.
Selkie pushes noses with Áine and wags their tail.
Selkie sneaks around poking every wolf in the pack.
Naoise pushes noses with Selkie and wags their tail.
Selkie pushes noses with ♠.Tethra and wags their tail.

Preferences
Name Origin:
Selkies are creatures from broadly Celtic legends that live on both the sea and on land. They are similar to merfolk in that they can have a half-human form, but they also have fully seal and fully human forms. Their pelt, which is like that of a seel's, grants them this power. Selkie's are very attached to their pelt, and cannot transform without it. They can feel and sense this pelt constantly, no matter where it is and what is being done to it. There are many tales of humans trying to steal these pelts to bind the selkie's to them and stop them from returning to the water, but the result is the selkie themselves being very depressed and longing for the sea again. Many legends of the selkie are cautionary and warn against harming the pelts for this reason. Not only did this make the pelts valuable, but also very well protected and coveted by the selkies themselves, many refusing to turn human out of fear of their power being stolen from under their nose.

Special Skills
N/A



Total Character Points: 448

Here is a list of creatures this wolf has defeated.



Squirrel
37

Rabbit
31

Pheasant
7

Deer
2

Red Fox
14

Badger
12

Boar
4

Mountain Lion
1
Import This Wolf Into The Custom Maker
Show Page Link
Copy Wolf Image