Refresh

You must be a registered member for more
than 1 day before you can use our chatbox.

Hourly Damage Variances

| | |
| --- | --- |
| | Sun Bear : -2 |
| | Jackal : -5 |
| | Black Bear : +4 |
Season: Fall Month: 2 Weather: Light Rain Moon:

| | |
| --- | --- |
| Time Of Day: Night | Explore In: Now |

Wolf Page


---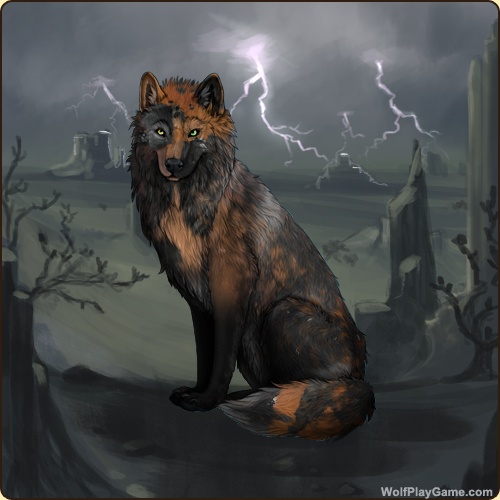 ---

Wolf Play is a fun game! Sign Up Now!


| | |
| --- | --- |
| | 5 Paws Up |
Wolf Number: 3504232
Gender: Female
Age: 12
Pack: Domovoi
Breeder: Crescent Moon Pack
Rank: Alpha Female
Weight: 148 Pounds
Total Battle Earnings: 0
Total Mush Found: 0

Birthdate: Jul 24, 2021
Sire: Theo~ AP|G1|HW150|VitiBPMaker
Dam: G1 HW H+12 Defect momma
Mood: Content
Battle Experience: 0
Playfulness: High
Birth Defect: Vitiligo 4
Boost: None

Offspring Count: 39
Bred This Year: 0
Total Times Bred: 12
Affinity W/Your Pack: Ok


Talent: Stealth Empathy Resolve


Talent Count: 3
Injury: None
Sales History
Eyes: Gold-Green (Common)
Nose: Black (Common)
Inner Ears: Obsidian
Base Coat: Black Dapple (Common)
Leg Type: High
Leg Color: Obsidian

Head Type: Reverse Throat
Head Color: Obsidian
Tail Type: Tip
Muzzle Type: Stripe
Muzzle Color: Red
Harlequin: Blue
Somatic Mutation: Red

Back Type: Dapple
Back Color: Red
Back Type #2: Sooty 2
Back Color #2: Obsidian
Shoulder: Red
Brindle: Obsidian
Piebald 3: Red
Belton: Blue
Okapi: Silver
Leopard: Obsidian
Speckle Type: Full
Speckle Color: Silver
Ear Edges Type: Tip
Ear Edges Color: Obsidian

Rarity Score: 59
Biography



"Marids are often described as the most powerful type of djinn, having especially great powers. They are the most proud as well. Like every jinn, they have free will yet could be compelled to perform chores. According to folklore, they also have the ability to grant wishes to mortals, but that usually requires battle, imprisonment, rituals, or just a great deal of flattery."

Personality
Available for brood, more info listed here:
https://wolfplaygame.com/forums.php?f=12&t=75123

Preferences
N/A

Special Skills
Viti 4
CL2G
AP Blood
+8-3
59R AC

Paired to Djinn



Total Character Points: 169

Here is a list of creatures this wolf has defeated.


Import This Wolf Into The Custom Maker
Copy Wolf Image