Hourly Damage Variances

| | |
| --- | --- |
| | Ermine : +4 |
| | Wolverine : +4 |
| | Cheetah : +4 |
Season: Summer Month: 2 Weather: Sunny Moon:

| | |
| --- | --- |
| Time Of Day: Day | Battle Explore In: Now |

Wolf Page


---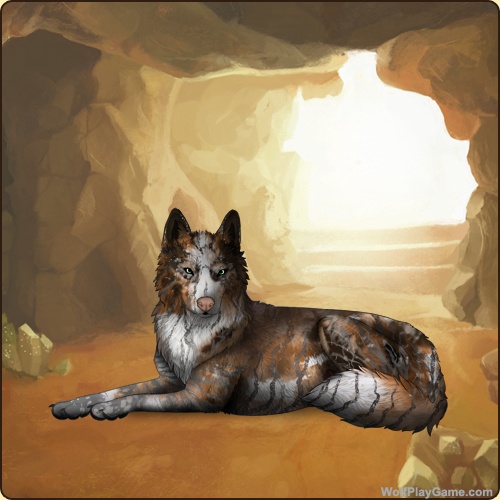 ---

Wolf Play is a fun game! Sign Up Now!


| | |
| --- | --- |
| | 0 Paws Up |
Wolf Number: 3303843
Gender: Female
Age: Deceased
Deathdate: Feb 28, 2021
Death Age: 1
Pack: The Heavens
Breeder: Howling Riot
Rank:
Weight: 133 Pounds
Total Battle Earnings: 0
Total Mush Found: 0

Birthdate: Feb 28, 2021
Sire: Amulet
Dam: Yana ²
Mood: Content
Battle Experience: 0
Playfulness: Very High
Birth Defect: None
Boost: None

Offspring Count: 0
Bred This Year: 0
Total Times Bred: 0
Affinity W/Your Pack: Bad


Talent: Luck Maternal Empathy Agility Spirituality


Talent Count: 5
Injury: None
Sales History
Eyes: Green (Common)
Nose: Pink (Common)
Base Coat: Red Tweed (Common)

Head Type: Frontal
Head Color: None
Tail Type: Two Rings
Muzzle Type: Wide
Muzzle Color: None

Shoulder: Tan
Brindle: Black
Belton: White
Okapi: Slate
Ear Edges Type: Full
Ear Edges Color: None

Rarity Score: 19
Biography
N/A
Personality
N/A

Preferences
N/A

Special Skills
N/A



Total Character Points: 100

Here is a list of creatures this wolf has defeated.


Import This Wolf Into The Custom Maker
Copy Wolf Image