Hourly Damage Variances

| | |
| --- | --- |
| | Bobcat : +4 |
| | Mojave Green Rattler : +3 |
| | Water Moccasin : -4 |
Season: Spring Month: 3 Weather: Fog Moon:

| | |
| --- | --- |
| Time Of Day: Day | Battle Explore In: Now |

Wolf Page


---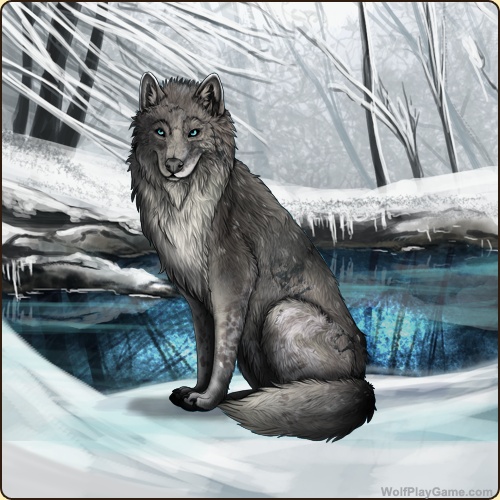 ---

Wolf Play is a fun game! Sign Up Now!


| | |
| --- | --- |
| | 9 Paws Up |
Wolf Number: 3228677
Gender: Female
Age: 13
Pack: Sabbath
Breeder: Just A Dreamer
Rank: Omega
Weight: 149 Pounds
Total Battle Earnings: 0
Total Mush Found: 0

Birthdate: Jan 8, 2021
Sire: Unknown
Dam: Unknown
Mood: Content
Battle Experience: 0
Playfulness: Medium
Birth Defect: None
Boost: Crushing Strength

Offspring Count: 36
Bred This Year: 0
Total Times Bred: 11
Affinity W/Your Pack: Ok


Talent: Morals Resolve Charisma Spirituality


Talent Count: 5
Injury: None
Sales History
Eyes: Aqua (Uncommon)
Nose: Dark Grey Snow Nose (Legendary)
Inner Ears: Grey
Base Coat: Gunmetal (Legendary)
Leg Type: Front Socks
Leg Color: Grey

Head Type: Throat
Head Color: Grey
Tail Type: Three Rings
Muzzle Type: Stripe
Muzzle Color: Grey
Harlequin: Grey
Somatic Mutation: Grey

Back Type: Rough
Back Color: Blue
Shoulder: Black
Brindle: Grey
Piebald 2: Silver
Belton: Slate
Okapi: Silver
Leopard: Slate
Speckle Type: Full
Speckle Color: White
Ear Edges Type: Half
Ear Edges Color: White

Rarity Score: 109
| | | | | | |
| --- | --- | --- | --- | --- | --- |
| Nose Pushing | Unlock | Unlock | Unlock | Unlock | Unlock |

Play Level: 1 (0) Play Points: 0
Biography
⌽ACHILA⌽
Rank: Omega, Mother
Battle Experience: None
Gen: 1st
Clean Lined: Yes
Rarity: 109
Talents: 5
Defect: None
Boost: Crushing Strength
Weight: Heavyweight [139lbs]
Vitals: Almost Hero [+0+2+5+2]
Major Wolves in Lines: None
Personality
[No bonded mate to display]

Preferences
⌽One Divine Health pup
⌽One AC 42R pup [Levia]
⌽Two 106T pups [Najarala][Kulve Taroth]
⌽One AC 40R 99T pup [Odogaron]
⌽One AC 40R 87T pup
⌽One AC 41R pup [Viola]
⌽One Anosmia pup [Lumina]

Special Skills
[Last Updated: 5/2/2021]



Total Character Points: 347

Here is a list of creatures this wolf has defeated.


Import This Wolf Into The Custom Maker
Copy Wolf Image