Hourly Damage Variances

| | |
| --- | --- |
| | Coyote : +1 |
| | Jackal : +1 |
| | Anaconda : -3 |
Season: Summer Month: 3 Weather: Clear Moon:

| | |
| --- | --- |
| Time Of Day: Night | Explore In: Now |

Wolf Page


---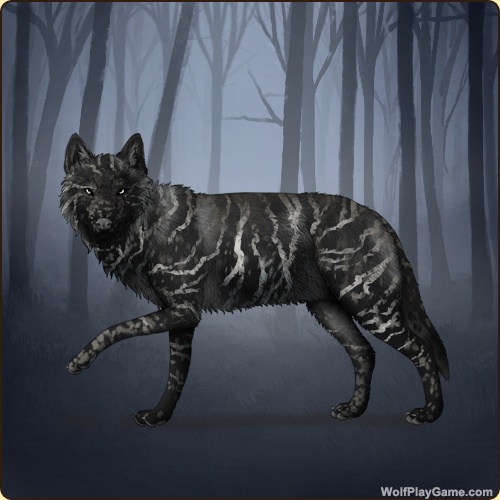 ---

Wolf Play is a fun game! Sign Up Now!





| | |
| --- | --- |
| | 2 Paws Up |
Wolf Number: 3163933
Gender: Male
Age: 6
Pack: Serpents
Breeder: Serpents
Rank: Omega
Weight: 140 Pounds
Total Battle Earnings: 0
Total Mush Found: 0

Birthdate: Nov 23, 2020
Sire: Pup 28
Dam: Songaa(Strong)
Mood: Content
Battle Experience: 0
Playfulness: Very High
Birth Defect: None
Boost: Ancestral Piety

Offspring Count: 14
Bred This Season: 0
Total Times Bred: 6
Affinity W/Your Pack: Ok


Talent: Stealth Social Resolve


Talent Count: 3
Injury: None
Sales History
Eyes: Ice (Common)
Nose: Black (Common)
Inner Ears: None
Base Coat: Obsidian (Common)
Leg Type: Low
Leg Color: None

Head Type: Frontal
Head Color: None

Back Type: Sooty 2
Back Color: None
Brindle: Silver
Belton: Slate

Rarity Score: 11
Biography
whispers echo around as a wolf looks to her pup the young males eyes white born with powers, a brown wolf looks to the dam her " He's like me the same power I feel it " She says calmly.
" Alo I'll name him Alo, " The mother says calmly

ten wolves stand around the pup their fur faded, the ones that left the land born the same day.

as the wolves vanish he hears one say Born of souls grow and show the love for all you have, not like those you came from light in those pitch-black nights,

Bridge the worlds of ours the life and the gone Alo you have a tremendous gift my young friend.

I look to seemy mother with another pup " Alo say hi to fairy's song she'll be a 'sister to you as her father needs some one to look after her " My mother says.
"Hi" I say to the other wolf.

" Hi " she says calmly
Personality
Alo is loving, very kind his white eyes see to be distant, as he looks off to the horizon,



Preferences
Crush:
Mate:
Sexuality:

Special Skills
Talking to ghosts, seeing ghosts, wisdom
Please give me Pick of litter when his 14



Total Character Points: 68

Here is a list of creatures this wolf has defeated.


Import This Wolf Into The Custom Maker
Copy Wolf Image