Hourly Damage Variances

| | |
| --- | --- |
| | Rattlesnake : -4 |
| | Alligator : +5 |
| | Sun Bear : +1 |
Season: Spring Month: 3 Weather: Fog Moon:

| | |
| --- | --- |
| Time Of Day: Night | Battle Explore In: Now |

Wolf Page


---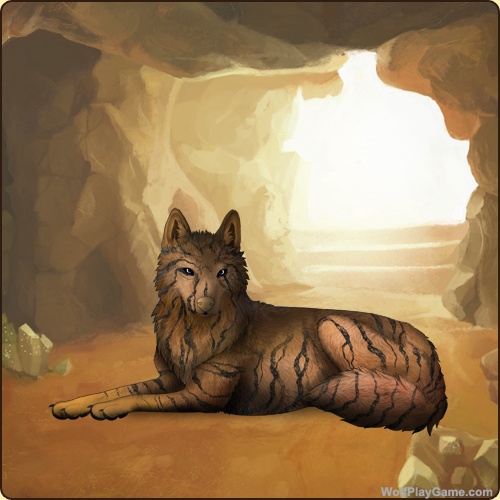 ---

Wolf Play is a fun game! Sign Up Now!


| | |
| --- | --- |
| | 2 Paws Up |
Wolf Number: 3092653
Gender: Female
Age: 19
Pack: Serpents
Breeder: Serpents
Rank: Omega
Weight: 113 Pounds
Total Battle Earnings: 0
Total Mush Found: 0

Birthdate: Oct 3, 2020
Sire: King Hunter
Dam: Aorta
Mood: Content
Battle Experience: 0
Playfulness: High
Birth Defect: None
Boost: None

Offspring Count: 5
Bred This Year: 0
Total Times Bred: 4
Affinity W/Your Pack: Ok
Talent: None
Injury: None
Sales History
Eyes: Dark Blue (Common)
Nose: Peach (Rare)
Inner Ears: None
Base Coat: Brown (Common)
Leg Type: Rings
Leg Color: None

Tail Type: Two Rings
Muzzle Type: None
Muzzle Color: Cream

Shoulder: Chocolate
Brindle: Obsidian
Ear Edges Type: None
Ear Edges Color: White

Rarity Score: 20
Biography
I was born to a wolf whos power is blood, I dawn the same power born of dark.
my eyes stand out from the reds as deep blue waters on the deserts edge,

the only daughter to my mom no siblings I have, I fear the day she is taking away from the plain of life
Personality
KInd

Preferences
Crush:
Mate:
Sexulaity:

Special Skills
Blood



Total Character Points: 45

Here is a list of creatures this wolf has defeated.


Import This Wolf Into The Custom Maker
Copy Wolf Image