Hourly Damage Variances

| | |
| --- | --- |
| | Grizzly Bear : +5 |
| | Mojave Green Rattler : +5 |
| | Boar : +3 |
Season: Fall Month: 2 Weather: Sleet Moon:

| | |
| --- | --- |
| Time Of Day: Day | Battle Explore In: Now |

Wolf Page


---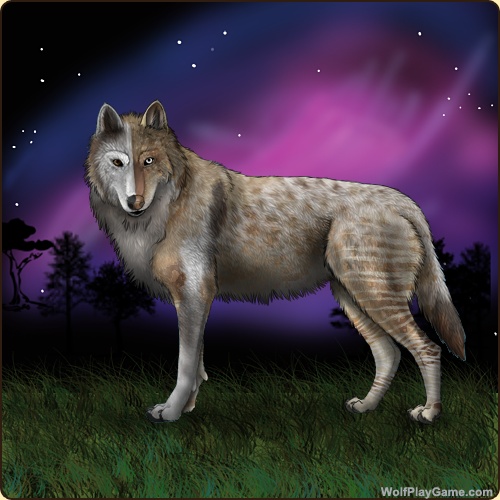 ---

Wolf Play is a fun game! Sign Up Now!









Keeper of the stars~CH1/G3/ExH
| | |
| --- | --- |
| | 75 Paws Up |
Wolf Number: 3059610
Gender: Male
Age: 4
Pack: ~Black Diamond~
Breeder: ~Black Diamond~
Rank: Beta Male
Weight: 122 Pounds
Total Battle Earnings: 319
Total Mush Found: 15

Birthdate: Sep 9, 2020
Sire: Inferi⏳
Dam: ⭒Tina²⭒
Mood: Fierce
Battle Experience: 98
Playfulness: Medium
Birth Defect: Chimera 1
Boost: None

Offspring Count: 65
Bred This Season: 0
Total Times Bred: 22
Affinity W/Your Pack: Ok


Talent: Maternal Battle


Talent Count: 3
Injury: None
Sales History
Currently Bred To
Eyes: Ice (Common)
Nose: Dark Liver (Common)
Inner Ears: White
Base Coat: Coyote (Common)
Leg Type: Stripes
Leg Color: White

Head Type: Throat
Head Color: White
Tail Type: Three Rings
Muzzle Type: Narrow
Muzzle Color: Hickory
Harlequin: Tan
Somatic Mutation: Cream

Back Type: Sooty 2
Back Color: White
Back Type #2: Spike
Back Color #2: Hickory
Shoulder: Cream
Brindle: Hickory
Piebald 1: Chocolate
Belton: Cream
Okapi: Cream
Leopard: Brown
Speckle Type: Full
Speckle Color: White
Ear Edges Type: Full
Ear Edges Color: Cream

Rarity Score: 59
Biography
☆The Legend of "The Keeper Of The Stars"☆

A mystery is what he is...he is never to be seen during the day. He can only be found on starry nights when there are no clouds in sight..Legend says He walks the land at night and howls at the sky calling out for someone but nobody ever came so it was thought until a young female wolf stayed behind at the water hole one night and didn't follow her pack but instead stayed behind and hid so she could wait and watch "The Keeper Of The Stars"... so she did just that she waited... and soon enough there he emerged from the darkness... and he then let out a ear ringing howl! The pup sat watching and all of a sudden saw something in the sky moving... hmm shooting star? Nope she couldn't believe her eyes but this was a constellation! The constellation of a wolf began to move! It then shot out of the sky like a shooting star and landed in front of the Bush where the young scared wolf was hiding and the little wolf, terrified yelped in fear and the constellation that landed before her chased her down and brought her back to "The Keeper Of The Stars" and he decided she had seen to much... so what would they do with her kill her? Lock her away? No, he allowed her to join them! He grew to love this she wolf and he took a chance and kissed her! But when he did something amazing happened... a blue orb began to emerge floating around them and then struck the she wolf in the chest and she fell lifeless... "The Keeper Of The Stars" frantic grabbed her and held her sobbing and as a tear fell on her fur she began to wake up! Something was different she said... they didn't think much of it until she tested her howling skills again... she howled that night and the constellations began to scurry around the sky! She had somehow in the kiss developed the same power he had! They now roam together at night side by side calling to the constellations to come out and play... Never to be seen during the day only on clear starry nights are they still seen walking through the dark say the Legend... A mystery is what they are.
Personality
PELT DESIGN MADE BY ME! do NOT steal my coat ideas!!He will be 122 lbs...Stud price will be 400!

A jasmine/2geodes gets you 2 free breedings!

The Keeper Of The Stars is/has~

~Chimera 1
~G3
~ExH
~AxW
~Obedient
disposition
28R AC before customization He is now 59R AC!

Customized~September 22nd 2020 ♡

Preferences
My first EVER chimera! He will never be sold unless I was offered 100 apples xD.

Help me max him out! He needs all the CP possible! He was rated in everything on 9/18/20 and rated ExH AxW and Obedient disposition!

NOTABLE PUPS~
Deaf (M)
41R AC hero(M)
42R AC hero(M)
43R AC hero(F)
45R AC Male 41R AC hydrocephalus defect female
~VITILIGO 3 Male
Boost/defect female
Boost/defect female
46R AC DEFECT female
41R AC female

Special Skills
I want to get some FMC decor/gear for him >.< donations are welcome!



Total Character Points: 1014

Here is a list of creatures this wolf has defeated.



Squirrel
29

Rabbit
30

Pheasant
6

Red Fox
10

Badger
8

Boar
3

Undead Bear
2

Undead Brad
2

Undead Larry
2

Moddey Dhoo
2

Gwyligi
1

Yeth Hound
1

Gytrash
2
Import This Wolf Into The Custom Maker
Copy Wolf Image