Hourly Damage Variances

| | |
| --- | --- |
| | Red Fox : -3 |
| | Spotted Hyena : -5 |
| | Grizzly Bear : +3 |
Season: Summer Month: 3 Weather: Sunny Moon:

| | |
| --- | --- |
| Time Of Day: Day | Explore In: Now |

Wolf Page


---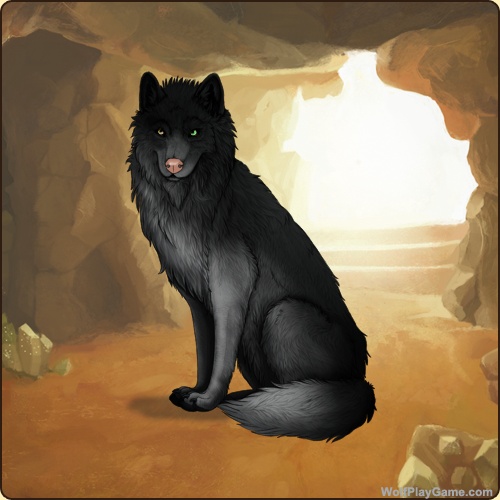 ---

Wolf Play is a fun game! Sign Up Now!


| | |
| --- | --- |
| | 0 Paws Up |
Wolf Number: 3006259
Gender: Female
Age: Deceased
Deathdate: Jan 25, 2021
Death Age: 17
Pack: The Heavens
Breeder: Rock Creek
Rank:
Weight: 77 Pounds
Total Battle Earnings: 538
Total Mush Found: 0

Birthdate: Aug 3, 2020
Sire: Unknown
Dam: Unknown
Mood: Content
Battle Experience: 114
Playfulness: Medium
Birth Defect: None
Boost: None

Offspring Count: 25
Bred This Year: 0
Total Times Bred: 10
Affinity W/Your Pack: Ok


Talent: Resolve Spirituality


Talent Count: 3
Injury: None
Sales History
Eyes: Brown-Green (Common)
Nose: Pink (Common)
Base Coat: Faded Black (Legendary)

Muzzle Type: Wide
Muzzle Color: None

Back Type #2: Rough
Back Color #2: None
Piebald 0: Slate
Speckle Type: Full
Speckle Color: None

Rarity Score: 50
Biography
It was a bright and sunny day, and all pups and wolves alike were rolling in the bright green grass. All accept for one. One dark black wolf stood hidden in the shadows of the trees, watching.
Personality
Just like her name, Dark fades into the background. With her high rarity, and hero status, she should be in charge, but instead, she just goes with the flow.

Preferences
N/A

Special Skills
N/A



Total Character Points: 648

Here is a list of creatures this wolf has defeated.



Squirrel
1

Deer
1

Chipmunk
1

Red Fox
2

Badger
1

Wolverine
1

Bullfrog
3

Rice Rat
1

Marsh Rabbit
4

Anhinga
1

Wood Duck
1

Snapping Turtle
1

Ocelot
3

Alligator
1

Baboon
16

Leopard
11

Mamba
10

Crocodile
2

Jaguar
2

Capybara
13

Tapir
3

Antelope
10

Water Buffalo
2

Spider Monkey
7

Sloth
1

Undead Brad
1

Pere Fouettard
1

Krampus
1

Jolakolturin
2

Gryla
1

Dip
3

Moddey Dhoo
1

Grendel
1

Nordic Warrior Man
2

Nordic Warrior Woman
2
Import This Wolf Into The Custom Maker
Copy Wolf Image