Hourly Damage Variances

| | |
| --- | --- |
| | Red Fox : -2 |
| | Copperhead : 0 |
| | Grizzly Bear : +1 |
Season: Winter Month: 2 Weather: Light Snow Moon:

| | |
| --- | --- |
| Time Of Day: Night | Explore In: Now |

Wolf Page


---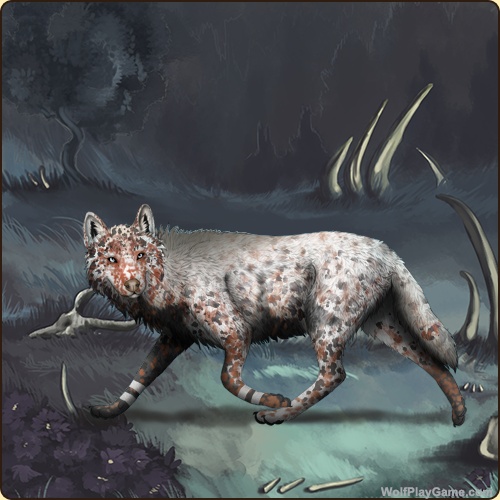 ---

Wolf Play is a fun game! Sign Up Now!


| | |
| --- | --- |
| | 3 Paws Up |
Wolf Number: 2791004
Gender: Male
Age: Deceased
Deathdate: Nov 23, 2020
Death Age: 22
Pack: The Heavens
Breeder: Vox Nihili
Rank:
Weight: 136 Pounds
Total Battle Earnings: 5031
Total Mush Found: 262

Birthdate: Mar 15, 2020
Sire: Oshin
Dam: The Dreamer Is Still Asleep
Mood: Content
Battle Experience: 1628
Playfulness: High
Birth Defect: None
Boost: None

Offspring Count: 69
Bred This Season: 0
Total Times Bred: 27
Affinity W/Your Pack: Good


Talent: Luck Composure


Talent Count: 2
Injury: None
Sales History
Eyes: Light Blue (Common)
Nose: Dark Liver Snow Nose (Rare)
Inner Ears: White
Base Coat: White (Common)
Leg Type: Rings
Leg Color: White

Head Type: None
Head Color: White
Tail Type: Three Rings
Muzzle Type: None
Muzzle Color: Slate

Back Type: Sooty 2
Back Color: White
Shoulder: Silver
Brindle: Red
Piebald 3: Obsidian
Belton: Red
Leopard: Black
Speckle Type: Full
Speckle Color: None
Ear Edges Type: Tip
Ear Edges Color: None

Rarity Score: 41
Biography
A gift from one of my best friends on here so i kept the name they named him as it is also my nickname for them.

-G2
-CL
-HW
-41R
-2T
Personality
N/A

Preferences
N/A

Special Skills
N/A



Total Character Points: 516

Here is a list of creatures this wolf has defeated.



Squirrel
468

Rabbit
426

Pheasant
35

Deer
52

Elk
1

Turkey
6

Moose
1

Red Fox
210

Badger
196

Boar
54

Wolverine
57

Bobcat
3

Mountain Lion
6

Coyote
11

Brown Bear
9

Woodchuck
5

Skunk
4

Raccoon
4

Opossum
2

Hedgehog
3

Beaver
1

Armadillo
3

Ant Eater
1

Baboon
7

Leopard
2

Mamba
5

Jaguar
4

Sun Bear
1

Margay
1

Capybara
1

Antelope
2

Spider Monkey
2

Sloth
1

Bandicoot
1

Green Python
2

Komodo Dragon
3

Bengal Tiger
1

Moose
1

Rat
1

Red Fox
1

Western Rattlesnake
2

Bobcat
2

Mojave Green Rattler
1

Leopard
2

Coyote
1

Arctic Hare
6

Rock Ptarmigan
1

Lemming
2

Polar Bear
2

Arctic Fox
4

Ermine
3

Grizzly Bear
1

Wolverine
2

Red Fox
2

Amarok
1

Eve
1
Import This Wolf Into The Custom Maker
Copy Wolf Image