Hourly Damage Variances

| | |
| --- | --- |
| | Alligator : +2 |
| | Vicuna Wolf : -2 |
| | Caiman : +2 |
Season: Fall Month: 1 Weather: Clear Moon:

| | |
| --- | --- |
| Time Of Day: Night | Battle Explore In: Now |

Wolf Page


---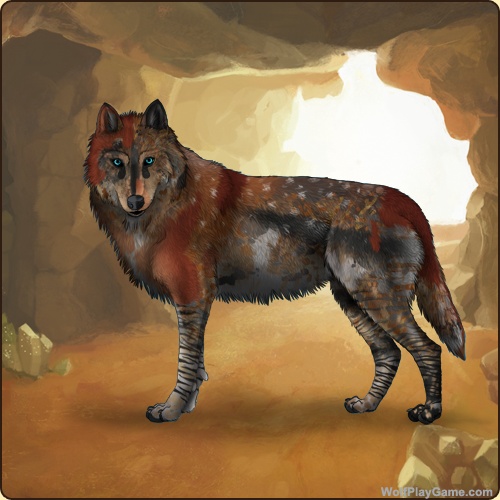 ---

Wolf Play is a fun game! Sign Up Now!


| | |
| --- | --- |
| | 4 Paws Up |
Wolf Number: 2510483
Gender: Male
Age: Deceased
Deathdate: Feb 17, 2020
Death Age: 16
Pack: The Heavens
Breeder: Just A Dreamer
Rank:
Weight: 112 Pounds
Total Battle Earnings: 5102
Total Mush Found: 421

Birthdate: Aug 24, 2019
Sire: :Hellfire:
Dam: 💕Kenya
Mood: Content
Battle Experience: 1434
Playfulness: Very High
Birth Defect: Chimera 5
Boost: None

Offspring Count: 438
Bred This Season: 3
Total Times Bred: 158
Affinity W/Your Pack: Ok


Talent: Perception Luck Resolve Spirituality


Talent Count: 4
Injury: None
Sales History
Eyes: Aqua (Uncommon)
Nose: Black (Common)
Inner Ears: Obsidian
Base Coat: Red Wolf (Common)
Leg Type: Stripes
Leg Color: Obsidian

Head Type: Tears
Head Color: Obsidian
Tail Type: Tip
Muzzle Type: Stripe
Muzzle Color: Blue
Harlequin: Black

Back Type: Side Splash
Back Color: Obsidian
Shoulder: Red
Brindle: Ochre
Piebald 3: Grey
Belton: Tan
Okapi: Blue
Leopard: Red
Speckle Type: Full
Speckle Color: White
Ear Edges Type: Half
Ear Edges Color: Obsidian

Rarity Score: 55
Biography
A very special gift for my birthday
Given to me by Cookie
Personality
Notable pups
Viti 1
Albino

Preferences
Not for sale

Special Skills
N/A



Total Character Points: 1580

Top 10 Total Times Bred - Victory
(2)
Here is a list of creatures this wolf has defeated.



Squirrel
367

Rabbit
392

Pheasant
9

Deer
9

Elk
3

Chipmunk
13

Turkey
8

Moose
3

Red Fox
102

Badger
119

Boar
4

Wolverine
12

Bobcat
4

Mountain Lion
8

Coyote
11

Brown Bear
9

Woodchuck
3

Skunk
2

Rice Rat
2

Marsh Rabbit
1

Alligator
1

Baboon
15

Leopard
4

Mamba
8

Crocodile
2

Sun Bear
3

Capybara
8

Tapir
2

Antelope
10

Spider Monkey
1

Weretiger
1

Cougar
3

Coyote
2

Grey Fox
1

Black Bear
2

Thorny Devil
5

Kangaroo Rat
8

Javelina
2

Gila Monster
3

Pika
7

Ibex
4

Mule Deer
3

Snowshoe Hare
9

Moose
5

Beaver
5

Mountain Goat
3

Hyrax
10

Alpaca
2

Bighorn Sheep
4

Rat
2

Grizzly Bear
3

Red Fox
7

Western Rattlesnake
1

Bobcat
10

Cougar
6

Jackal
6

Mojave Green Rattler
2

Leopard
7

Coyote
5

Black Bear
2

Caribou
5

Arctic Hare
4

Musk Ox
1

Rock Ptarmigan
9

Harlequin Duck
1

Ground Squirrel
9

Snowshoe Hare
3

Reindeer
7

Puffin
4

Moose
1

Lemming
1

Polar Bear
9

Arctic Fox
23

Ermine
23

Grizzly Bear
7

Wolverine
17

Red Fox
17

Undead Bear
1

Undead Brad
9

Undead Larry
4

Jolakolturin
2

Eve
2

Dip
3

Moddey Dhoo
2

Gwyligi
1

Yeth Hound
1

Gytrash
1

Grendel
1

Dreki
1
Import This Wolf Into The Custom Maker
Copy Wolf Image