Hourly Damage Variances

| | |
| --- | --- |
| | Alligator : 0 |
| | Black Bear : +1 |
| | Cougar : +1 |
Season: Spring Month: 3 Weather: Clear Moon:
Time Of Day: Night

Wolf Page


---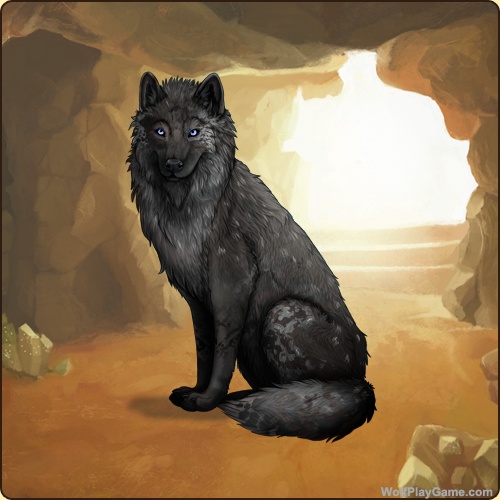 ---

Wolf Play is a fun game! Sign Up Now!


| | |
| --- | --- |
| | 51 Paws Up |
Wolf Number: 2502008
Gender: Female
Age: 4
Pack: Destiny Of Angels
Breeder: PoseidonsTrdt
Rank: Omega
Weight: 130 Pounds
Total Battle Earnings: 2439
Total Mush Found: 18

Birthdate: Aug 17, 2019
Sire: ☍Realm Jumper
Dam: Fertile Sands🔱G2
Mood: Content
Battle Experience: 925
Playfulness: Very High
Birth Defect: None
Boost: Elite Speed

Offspring Count: 9
Bred This Year: 1
Total Times Bred: 4
Pregnant by Worlock
Hours Pregnant: 46
Affinity W/Your Pack: Ok


Talent: Luck Morals Resolve Composure Battle Agility


Talent Count: 11
Injury: None
Sales History
Eyes: Light Blue (Common)
Nose: Black (Common)
Inner Ears: Blue
Base Coat: Black (Common)
Leg Type: Rings
Leg Color: Blue

Head Type: Reverse Facemask
Head Color: Blue
Harlequin: Black

Back Type: None
Back Color: Black
Shoulder: Black
Brindle: Blue
Piebald 1: Black
Leopard: Blue
Speckle Type: Full
Speckle Color: White
Ear Edges Type: None
Ear Edges Color: Black

Rarity Score: 34
Biography
Come dear Princess with your quick wits and blazing speed. Your army is awaiting your command. You lead them with a stern voice, and calm pale blue eyes. Your a champion, a queen , and royalty.
Personality
N/A

Preferences
Hit 525 BE at age 3

Special Skills
☪ C o r v i n a uses their Elite Speed to hit twice!
☪ C o r v i n a slashing bites Badger 1 and hits for 29.5 damage.

☪ C o r v i n a feels independent. ☪ C o r v i n a wreaks havoc with a CRITICAL HIT! WOW!
☪ C o r v i n a rips flesh Red Fox 1 and hits for 23.5 damage.

☪ C o r v i n a feels independent. ☪ C o r v i n a skull crushes Geovana Goldberg 1 (Carrier) and kills them.
You win 2 mushroomsThe Carrier was killed!
You have removed 2 bloody fangs from them!

Your wolves gather sticks and branches. ☪ C o r v i n a moves them into place and the leaking stopped.

Good job, you have earned 5 extra moves.

☪ C o r v i n a gouges their eyes Wolverine 1 and kills them.
You win 7 mushrooms
Wolverine 1 drops Red Rose and you pick it up.

Carefully your wolves stalk forward. The smell of humans fill their noses but they ignore it.

☪ C o r v i n a crawls into the pen and makes the kill! Quickly your wolves leave, dragging the meat with them.




Total Character Points: 1075

Here is a list of creatures this wolf has defeated.



Squirrel
287

Rabbit
235

Pheasant
43

Deer
4

Red Fox
119

Badger
123

Boar
48

Wolverine
7

Bobcat
2

Bullfrog
1

Marsh Rabbit
2

Baboon
2

Mamba
2

Margay
1

Vicuna Wolf
1

Werewolf
1

Werewolf
2

Werewolf
3

Werewolf
1

Fisherman
8

Hiker
13

Lost Backpacker
3

Camper
6

Jogger
8
Import This Wolf Into The Custom Maker