Hourly Damage Variances

| | |
| --- | --- |
| | Crocodile : +1 |
| | Mamba : -2 |
| | Wolverine : -2 |
Season: Fall Month: 1 Weather: Light Rain Moon:

Wolf Page


---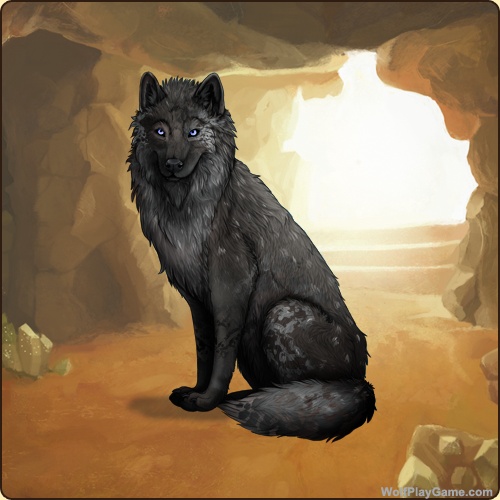 ---

Wolf Play is a fun game! Sign Up Now!


| | |
| --- | --- |
| | 6 Paws Up |
Wolf Number: 2502008
Gender: Female
Age: 15
Pack: Burning Christmas
Breeder: PoseidonsTrdt
Rank: Omega
Weight: 130 Pounds
Total Battle Earnings: 3228
Total Mush Found: 24

Birthdate: Aug 17, 2019
Sire: ☍Realm Jumper
Dam: Fertile Sands🔱G2
Mood: Content
Battle Experience: 1059
Playfulness: Very High
Birth Defect: None
Boost: Elite Speed

Offspring Count: 18
Bred This Year: 0
Total Times Bred: 6
Affinity W/Your Pack: Ok


Talent: Luck Morals Resolve Composure Battle Agility


Talent Count: 11
Injury: None
Sales History
Eyes: Light Blue (Common)
Nose: Black (Common)
Inner Ears: Blue
Base Coat: Black (Common)
Leg Type: Rings
Leg Color: Blue

Head Type: Reverse Facemask
Head Color: Blue
Harlequin: Black

Back Type: None
Back Color: Black
Shoulder: Black
Brindle: Blue
Piebald 1: Black
Leopard: Blue
Speckle Type: Full
Speckle Color: White
Ear Edges Type: None
Ear Edges Color: Black

Rarity Score: 34
| | | | | | |
| --- | --- | --- | --- | --- | --- |
| Nose Pushing | Unlock | Unlock | Unlock | Unlock | Unlock |

Play Level: 1 (0) Play Points: 0
Biography
Come dear Princess with your quick wits and blazing speed. Your army is awaiting your command. You lead them with a stern voice, and calm pale blue eyes. Your a champion, a queen , and royalty.
Personality
A cunning and manipulative she-wolf. She has no heart for the weak or soft-minded wolves of the pack. Born with the blessing of elite speed she is known for her swift combat skills, and her fierceness in battle. She is the first great battlewolf of the Pack Of Angels, and she is well beloved, and has taken the young, Doashan under her paw as her apprentice and future leader of the Ghost Team of Explorers.

A she-wolf who loves toying with other wolves, and likes to keep them guessing even when she shouldn't. Very manipulative and smooth-tounged. A seductive creature with a flare for making males weak in the knees, and she has many children, and her pride and joy being her defected son who has become a Epsilon or Guardian of the Pack.

Preferences
Hit 525 BE at age 3

Hit DG at age 4

Special Skills
N/A



Total Character Points: 1160

Here is a list of creatures this wolf has defeated.



Squirrel
290

Rabbit
237

Pheasant
43

Deer
5

Elk
2

Red Fox
124

Badger
123

Boar
50

Wolverine
12

Bobcat
4

Bullfrog
1

Marsh Rabbit
2

Baboon
6

Leopard
3

Mamba
10

Crocodile
2

Jaguar
5

Anaconda
3

Margay
2

Death Adder
9

Capybara
7

Tapir
2

Antelope
4

Water Buffalo
2

Spider Monkey
10

Okapi
3

Elephant
4

Flying Fox
3

Bongo
2

Bandicoot
2

Green Python
7

Komodo Dragon
1

Vicuna Wolf
2

Poison Dart Frog
2

Peccary
2

Coatimundi
6

Bengal Tiger
4

Red Fox
2

Polar Bear
1

Arctic Fox
6

Ermine
1

Undead Larry
1

Gytrash
1

Gwyn ap Nudd
1

Werewolf
1

Werewolf
2

Werewolf
3

Werewolf
1

Fisherman
8

Hiker
13

Lost Backpacker
3

Camper
6

Jogger
8

Grendel
1

Dreki
1
Import This Wolf Into The Custom Maker
Copy Wolf Image