Hourly Damage Variances

| | |
| --- | --- |
| | Crocodile : +1 |
| | Mamba : -2 |
| | Wolverine : -2 |
Season: Fall Month: 1 Weather: Light Rain Moon:

Wolf Page


---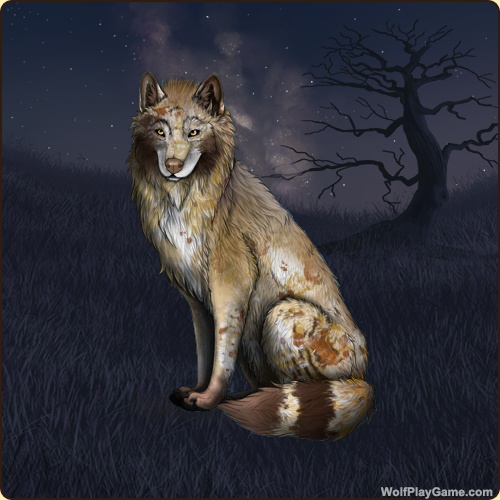 ---

Wolf Play is a fun game! Sign Up Now!


| | |
| --- | --- |
| | 0 Paws Up |
Wolf Number: 2489821
Gender: Female
Age: Deceased
Deathdate: Jan 27, 2020
Death Age: 15
Pack: The Heavens
Breeder: Nightmist
Rank:
Weight: 119 Pounds
Total Battle Earnings: 4629
Total Mush Found: 650

Birthdate: Aug 9, 2019
Sire: ஓ Rumen
Dam: Sri ⚶♇
Mood: Content
Battle Experience: 1358
Playfulness: Low
Birth Defect: None
Boost: Divine Health

Offspring Count: 39
Bred This Year: 1
Total Times Bred: 14
Affinity W/Your Pack: Good


Talent: Stealth Empathy Charisma


Talent Count: 3
Injury: None
Sales History
Eyes: Gold (Common)
Nose: Dark Liver (Common)
Inner Ears: Hickory
Base Coat: Flax (Common)
Leg Type: Paws
Leg Color: Hickory

Head Type: Cheeks
Head Color: Hickory
Tail Type: Two Rings
Muzzle Type: Wide
Muzzle Color: White
Harlequin: Red
Somatic Mutation: Cream

Back Type: Half
Back Color: Chocolate
Shoulder: Brown
Brindle: Cream
Piebald 3: White
Belton: White
Okapi: Hickory
Leopard: Cream
Speckle Type: Half
Speckle Color: Hickory
Ear Edges Type: Half
Ear Edges Color: Hickory

Rarity Score: 55
Biography
Theme Song:
Three Libras, by A Perfect Circle


Cause I threw you the obvious
To see what occurs behind the eyes
Of a fallen angel
Eyes of a tragedy
Oh well, oh well
Apparently nothing
Apparently nothing at all

Personality
The neutral good. She is silent in her ways, wise in her teachings and fruitful in her hunting. She is considered a princess of the pack.

AKA Libra, Libras, Three.

Preferences
N/A

Special Skills
N/A



Total Character Points: 797

Here is a list of creatures this wolf has defeated.



Squirrel
456

Rabbit
425

Pheasant
5

Deer
4

Elk
2

Chipmunk
4

Turkey
6

Moose
9

Red Fox
140

Badger
114

Boar
12

Wolverine
7

Bobcat
7

Mountain Lion
6

Coyote
8

Brown Bear
4

Woodchuck
2

Skunk
1

Opossum
3

Big Foot
1

Baboon
4

Leopard
2

Capybara
1

Tapir
1

Yule Lad
2

Pere Fouettard
1

Hans Trapp
3

Frau Perchta
1

Belsnickel
2

Werewolf
4

Werewolf
3

Werewolf
2

Werewolf
1

Werewolf
8

Fisherman
14

Hiker
12

Lost Backpacker
17

Camper
12

Jogger
17

Grendel
14

Dreki
14

Nordic Warrior Man
6

Nordic Warrior Woman
1
Import This Wolf Into The Custom Maker
Copy Wolf Image