Hourly Damage Variances

| | |
| --- | --- |
| | Badger : -3 |
| | Leopard : +1 |
| | Ermine : 0 |
Season: Spring Month: 2 Weather: Heavy Rain Moon:

| | |
| --- | --- |
| Time Of Day: Night | Battle Explore In: Now |

Wolf Page


---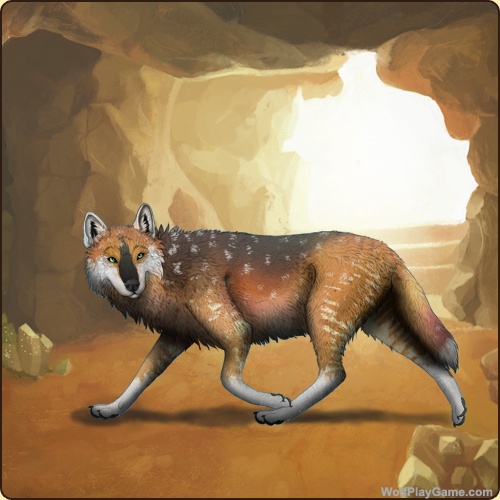 ---

Wolf Play is a fun game! Sign Up Now!


| | |
| --- | --- |
| | 3 Paws Up |
Wolf Number: 2331495
Gender: Male
Age: Deceased
Deathdate: Oct 14, 2019
Death Age: 17
Pack: The Heavens
Breeder:
Rank:
Weight: 103 Pounds
Total Battle Earnings: 0
Total Mush Found: 0

Birthdate: Apr 25, 2019
Sire: Unknown
Dam: Unknown
Mood: Content
Battle Experience: 0
Playfulness: Medium
Birth Defect: None
Boost: Surpassing Valor

Offspring Count: 452
Bred This Season: 0
Total Times Bred: 152
Affinity W/Your Pack: Bad


Talent: Stealth Maternal Morals Resolve


Talent Count: 4
Injury: None
Sales History
Eyes: Green (Common)
Nose: Black (Common)
Inner Ears: White
Base Coat: Ochre (Common)
Leg Type: Low
Leg Color: White

Head Type: Cheeks
Head Color: White
Tail Type: Tip
Muzzle Type: Stripe
Muzzle Color: Black
Harlequin: Ochre
Somatic Mutation: Ochre

Back Type: Saddle
Back Color: Brown
Shoulder: Hickory
Brindle: Red
Piebald 1: Ochre
Belton: Ochre
Okapi: Cream
Leopard: Ochre
Speckle Type: Full
Speckle Color: White
Ear Edges Type: Full
Ear Edges Color: White

Rarity Score: 55
Biography


Alistair is named after Alistair Theirin from the Dragon Age series. He is certainly a beloved character from my childhood and helped me cope with some real-life struggles.

...

Alistair likes to have fun, even in the toughest and most challenging times. He does have a rather unpleasant past and makes light of it with humor. Alistair is protective, loyal and kind-spirited -- think of the most innocent pup, but just way over-sized. That is Alistair.

Personality
Young at Heart | Warrior | Passionate | Kind | Entirely too Playful.

Preferences
N/A

Special Skills
N/A



Total Character Points: 428

Here is a list of creatures this wolf has defeated.


Import This Wolf Into The Custom Maker
Copy Wolf Image