Hourly Damage Variances

| | |
| --- | --- |
| | Red Fox : +2 |
| | Ocelot : +4 |
| | Mamba : -5 |
Season: Winter &nbsp Month: 2 &nbsp Weather: Light Snow
Time Of Day: Day

Wolf Page


---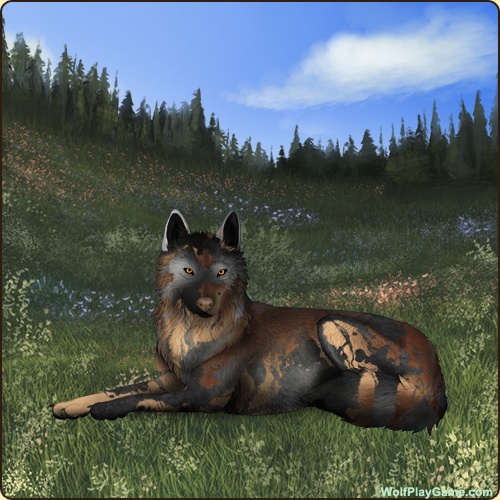 ---

Wolf Play is a fun game! Sign Up Now!


| | |
| --- | --- |
| | 0 Paws Up |
Wolf Number: 2012025
Gender: Female
Age: Deceased
Deathdate: May 6, 2019
Death Age: 19
Pack: The Heavens
Breeder:
Rank:
Weight: 123 Pounds
Total Battle Earnings: 4044
Total Mush Found: 185

Birthdate: Oct 6, 2018
Sire: Joshua-Anthony [JAY]
Dam: Blue
Mood: Content
Battle Experience: 665
Playfulness: Medium
Birth Defect: None
Boost: None

Offspring Count: 67
Bred This Year: 1
Total Times Bred: 24
Affinity W/Your Pack: Very Bad


Talent: Stealth Perception Luck Maternal Social Empathy Morals Resolve Composure Wisdom Battle Charisma Agility Spirituality


Talent Count: 62
Injury: None
Sales History
Eyes: Topaz (Uncommon)
Nose: Dark Liver (Common)
Inner Ears: None
Base Coat: Cider 1 (Common)
Leg Type: Medium
Leg Color: None

Tail Type: Three Rings
Muzzle Type: Stripe
Muzzle Color: None
Harlequin: Blue
Somatic Mutation: Blue

Back Type: Rough
Back Color: None
Shoulder: Tan
Brindle: Blue
Speckle Type: None
Speckle Color: Hickory
Ear Edges Type: Full
Ear Edges Color: White

Rarity Score: 34
Biography
N/A
Personality
Your wolves played: Armina closes their eyes as the wind blows through their fur.

Your wolves played: Armina draws in a deep, sharp breath and shakes their head to clear their mind.
Your wolves played: Armina admires their reflection in a stream.

Preferences
N/A

Special Skills
N/A



Total Character Points: 2437

Here is a list of creatures this wolf has defeated.



Squirrel
1

Rabbit
2

Elk
3

Turkey
1

Red Fox
6

Badger
12

Boar
4

Wolverine
7

Bobcat
5

Mountain Lion
6

Bullfrog
8

Rice Rat
17

Marsh Rabbit
14

Anhinga
7

Otter
8

Wood Duck
11

Rhea
6

Sandhill Crane
9

Nutria
2

Tapir
7

Black Bear
8

Rattlesnake
6

Snapping Turtle
6

Ocelot
6

Copperhead
9

Alligator
9

Jaguar
5

Water Moccasin
6

Caiman
5

Black Panther
4

Rougarou
1

Baboon
18

Leopard
15

Mamba
22

Crocodile
11

Jaguar
19

Sun Bear
15

Anaconda
23

Margay
5

Death Adder
8

Capybara
23

Tapir
13

Antelope
21

Water Buffalo
8

Spider Monkey
10

Sloth
24

Okapi
10

Elephant
7

Flying Fox
11

Bongo
13

Bandicoot
9

Green Python
6

Komodo Dragon
19

Vicuna Wolf
19

Poison Dart Frog
17

Peccary
10

Coatimundi
14

Weretiger
1

Bengal Tiger
15

Cougar
2

Coyote
5

Grey Fox
1

Jackal
2

Black Bear
3

Spotted Hyena
4

Cheetah
1

Thorny Devil
2

Pronghorn
5

Kangaroo Rat
4

Gila Monster
5

Longhorn Cattle
2

Jackrabbit
3

Chupacabra
1

Mule Deer
1

Moose
1

Elk
1

Cougar
1

Arctic Hare
2

Musk Ox
3

Rock Ptarmigan
4

Polar Bear
9

Arctic Fox
4

Ermine
2

Grizzly Bear
3

Wolverine
1

Red Fox
4

Undead Brad
1

Eve
1
Import This Wolf Into The Custom Maker