Hourly Damage Variances

| | |
| --- | --- |
| | Red Fox : +2 |
| | Ocelot : +4 |
| | Mamba : -5 |
Season: Winter &nbsp Month: 2 &nbsp Weather: Light Snow
Time Of Day: Day

Wolf Page


---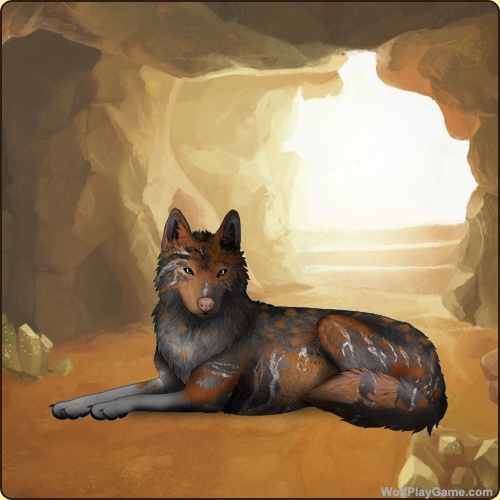 ---

Wolf Play is a fun game! Sign Up Now!


| | |
| --- | --- |
| | 1 Paws Up |
Wolf Number: 2006486
Gender: Female
Age: Deceased
Deathdate: Apr 29, 2019
Death Age: 18
Pack: The Heavens
Breeder: Serial Dreamer
Rank:
Weight: 136 Pounds
Total Battle Earnings: 1074
Total Mush Found: 9

Birthdate: Oct 3, 2018
Sire: Markus II
Dam: Evelyn II
Mood: Content
Battle Experience: 314
Playfulness: Low
Birth Defect: None
Boost: None

Offspring Count: 39
Bred This Year: 1
Total Times Bred: 13
Affinity W/Your Pack: Bad


Talent: Wisdom


Talent Count: 1
Injury: None
Sales History
Eyes: Dark Brown (Common)
Nose: Pink (Common)
Base Coat: Black (Common)
Leg Type: Low
Leg Color: Black

Head Type: Reverse Facemask
Head Color: Black
Muzzle Type: Stripe
Muzzle Color: None
Somatic Mutation: Red

Back Type: Half
Back Color: Black
Shoulder: Black
Brindle: White
Piebald 1: Black
Belton: Red
Okapi: Black
Speckle Type: Full
Speckle Color: Red
Ear Edges Type: Full
Ear Edges Color: None

Rarity Score: 39
Biography


Queen by Blood.
Huntress by Heart.
Heartless by Time.
Empty by Darkness.
Harsh by Choice.
And nature turned the Queen from the loving Princess to the Wolf of hell from the time to spent testing every part of her Mind, body and soul.



Name: Marrien Raven
Nickname: Little Psycho
Gender: Female
Age: 18 years
Song: Sweet but Psycho
Personality
N/A

Preferences
N/A

Special Skills
N/A



Total Character Points: 970

Here is a list of creatures this wolf has defeated.



Squirrel
81

Rabbit
96

Red Fox
8

Badger
11

Baboon
1

Leopard
3

Mamba
2

Crocodile
2

Jaguar
6

Sun Bear
4

Anaconda
4

Margay
5

Death Adder
4

Capybara
2

Tapir
4

Antelope
2

Water Buffalo
4

Spider Monkey
2

Sloth
4

Okapi
1

Flying Fox
1

Bongo
1

Bandicoot
9

Green Python
1

Komodo Dragon
4

Vicuna Wolf
6

Poison Dart Frog
6

Peccary
3

Coatimundi
7

Bengal Tiger
6

Pika
5

Ibex
3

Grizzly Bear
2

Red Fox
6

Western Rattlesnake
2

Undead Bear
1

Gytrash
1

Gwyn ap Nudd
4
Import This Wolf Into The Custom Maker