Hourly Damage Variances

| | |
| --- | --- |
| | Western Rattlesnake : +5 |
| | Caiman : -2 |
| | Crocodile : 0 |
Season: Summer &nbsp Month: 2 &nbsp Weather: Sunny
Time Of Day: Day

Wolf Page


---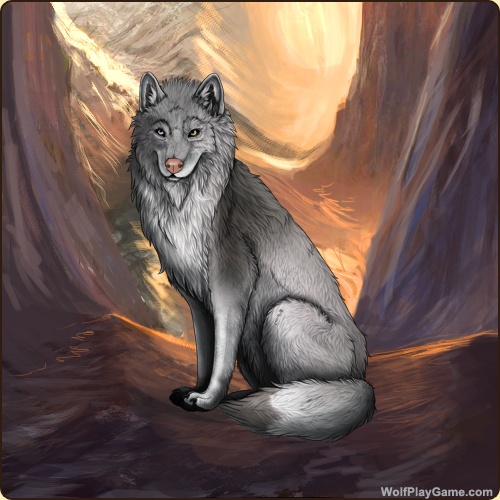 ---

Wolf Play is a fun game! Sign Up Now!


| | |
| --- | --- |
| | 8 Paws Up |
Wolf Number: 1964534
Gender: Female
Age: 9
Pack: Vox Nihili
Breeder: Vox Nihili
Rank: Omega
Weight: 136 Pounds
Total Battle Earnings: 27644
Total Mush Found: 398

Birthdate: Sep 7, 2018
Sire: Sunspot (G1/Almost Hero/ HW)
Dam: Timid Hate
Mood: Fierce
Battle Experience: 6870
Playfulness: Medium
Birth Defect: None
Boost: Divine Health

Offspring Count: 21
Bred This Year: 0
Total Times Bred: 7
Affinity W/Your Pack: Ok


Talent: Stealth Luck Empathy Morals Resolve Composure Wisdom Charisma


Talent Count: 9
Injury: None
Sales History
Eyes: Blue-Brown (Common)
Nose: Pink (Common)
Base Coat: Silver (Common)
Leg Type: Right Sock
Leg Color: Slate

Head Type: None
Head Color: Slate
Tail Type: Tip
Muzzle Type: Wide
Muzzle Color: White

Shoulder: Black
Speckle Type: Full
Speckle Color: None

Rarity Score: 13
| | | | | | |
| --- | --- | --- | --- | --- | --- |
| Nose Pushing | Jaw Wrestling | Cheek Rubbing | Facial Licking | Play Bow | Group Howl |

Play Level: 12 (296) Play Points: 21
Biography
Neurosis: Raze the Stray

https://www.youtube.com/watch?v=QG4vS5NvEvY
▬▬▬▬▬▬▬▬▬▬▬▬▬▬▬▬▬▬▬▬▬
Her Bloody Muzzle was provided by Serial Dreamer. Thank you so much! <3
▬▬▬▬▬▬▬▬▬▬▬▬▬▬▬▬▬▬▬▬▬
Raze won 1st place in the Pup Wrestling contest during the FMC of September 2018 for both Darkseekers (Vox Nihili) and Lightbringers (Serial Dreamer)! She's a natural born fighter (and bully)!
▬▬▬▬▬▬▬▬▬▬▬▬▬▬▬▬▬▬▬▬▬
Top 10 Battle Wolf award gained on 6. December 2018
Personality
Raze The Stray is an assertive, arrogant, competitive, vicious and oftentimes overconfident wolf. She's the self-proclaimed "Priestess of Blood", a title she introduced to the Pack.

She massacres wolves she deems "worthless" to preform sacrificial rites for the more bloodthirsty of the Dead and to "cleanse the Land from Filth" as she claims.
She is known to murder pups, including ones born to the Pack but more often, she snatches them from other Packs to slaughter them and to even feast on them as she believes that consuming pup blood will prolong her youth.

Though Raze is a spiritual minded murderess, she's not very sophisticated; she's usually very straightforward and blunt. She respects those above her but often treats those below her poorly.

Preferences
N/A

Special Skills
♆ 13 Rarity
♆ 9 Talents
♆ Clean Heritage
♆ 4. gen
♆ Heavy Weight
♆ Hero
♆ + 6 Vitals
♆ Excellent Wrestler
♆ Boost: Divine Health
♆ Damage: 32



Total Character Points: 2366

Top 10 Battle Wolf - Raze The Stray
(10)
Here is a list of creatures this wolf has defeated.



Squirrel
220

Rabbit
212

Pheasant
23

Deer
8

Elk
13

Chipmunk
8

Turkey
23

Moose
10

Red Fox
96

Badger
97

Boar
37

Wolverine
36

Bobcat
30

Mountain Lion
7

Coyote
34

Brown Bear
5

Woodchuck
9

Skunk
14

Raccoon
10

Opossum
16

Hedgehog
16

Beaver
7

Armadillo
18

Ant Eater
13

Bullfrog
1

Rice Rat
1

Anhinga
2

Otter
1

Sandhill Crane
1

Tapir
1

Capybara
2

Rattlesnake
3

Snapping Turtle
1

Ocelot
1

Copperhead
1

Water Moccasin
3

Caiman
1

Baboon
102

Leopard
94

Mamba
128

Crocodile
9

Jaguar
111

Sun Bear
14

Anaconda
157

Margay
136

Death Adder
229

Capybara
110

Tapir
113

Antelope
138

Water Buffalo
5

Spider Monkey
205

Sloth
175

Okapi
39

Elephant
8

Flying Fox
114

Bongo
65

Bandicoot
208

Green Python
222

Komodo Dragon
166

Vicuna Wolf
106

Poison Dart Frog
220

Peccary
117

Coatimundi
128

Weretiger
5

Bengal Tiger
19

Cougar
3

Coyote
24

Grey Fox
12

Jackal
19

Spotted Hyena
7

Cheetah
7

Bobcat
8

Thorny Devil
2

Kangaroo Rat
1

Javelina
1

Gila Monster
1

Jackrabbit
2

Gopher
1

Bactrian Camel
2

Pika
61

Ibex
2

Mule Deer
5

Snowshoe Hare
64

Moose
14

Beaver
47

Mountain Goat
4

Hyrax
49

Alpaca
41

Bighorn Sheep
4

Rat
56

Elk
31

Yeti
3

Grizzly Bear
1

Red Fox
65

Western Rattlesnake
72

Bobcat
57

Cougar
15

Jackal
73

Mojave Green Rattler
83

Leopard
26

Coyote
52

Caribou
26

Arctic Hare
101

Musk Ox
8

Rock Ptarmigan
75

Harlequin Duck
89

Ground Squirrel
121

Snowshoe Hare
75

Reindeer
36

Puffin
84

Moose
19

Lemming
123

Polar Bear
49

Arctic Fox
187

Ermine
232

Grizzly Bear
10

Wolverine
166

Red Fox
157

Amarok
3

Undead Bear
28

Undead Brad
15

Undead Larry
19

Yule Lad
18

Pere Fouettard
11

Krampus
17

Jolakolturin
24

Hans Trapp
10

Gryla
3

Frau Perchta
11

Belsnickel
16

Eve
4

Dip
15

Moddey Dhoo
11

Gwyligi
18

Yeth Hound
12

Gytrash
21

Gwyn ap Nudd
17
Import This Wolf Into The Custom Maker