Hourly Damage Variances

| | |
| --- | --- |
| | Red Fox : +2 |
| | Ocelot : +4 |
| | Mamba : -5 |
Season: Winter &nbsp Month: 2 &nbsp Weather: Light Snow
Time Of Day: Day

Wolf Page


---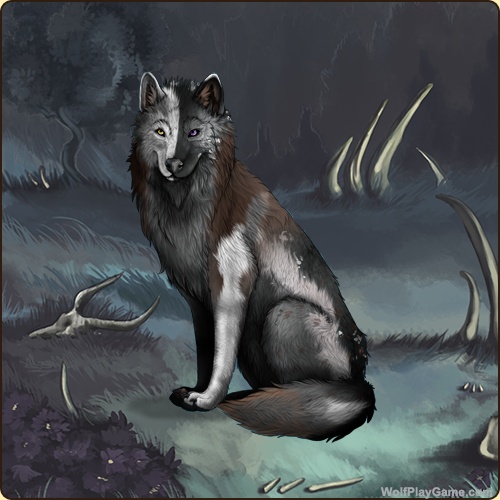 ---

Wolf Play is a fun game! Sign Up Now!


| | |
| --- | --- |
| | 1 Paws Up |
Wolf Number: 1957482
Gender: Female
Age: Deceased
Deathdate: Mar 18, 2019
Death Age: 18
Pack: The Heavens
Breeder: Anxiety
Rank:
Weight: 148 Pounds
Total Battle Earnings: 28507
Total Mush Found: 3170

Birthdate: Sep 2, 2018
Sire: ScarFace (G1) ✝️
Dam: Φ Cryptid (1G)
Mood: Content
Battle Experience: 5005
Playfulness: High
Birth Defect: Chimera 1
Boost: None

Offspring Count: 94
Bred This Year: 0
Total Times Bred: 33
Affinity W/Your Pack: Bad


Talent: Luck Maternal Composure Battle Charisma


Talent Count: 5
Injury: None
Sales History
Eyes: Amethyst (Rare)
Nose: Dark Grey Snow Nose (Legendary)
Inner Ears: Hickory
Base Coat: Gunmetal (Legendary)
Leg Type: Mitts
Leg Color: Hickory

Head Type: Reverse Throat
Head Color: Hickory
Tail Type: Tip
Muzzle Type: Stripe
Muzzle Color: Blue
Harlequin: Blue
Somatic Mutation: Blue

Back Type: Side Splash
Back Color: Silver
Shoulder: Hickory
Brindle: Blue
Piebald 2: Blue
Belton: Blue
Okapi: Black
Leopard: White
Speckle Type: Half
Speckle Color: Hickory
Ear Edges Type: Tip
Ear Edges Color: White

Rarity Score: 111
Biography
The Chimera (/kɪˈmɪərə/ or /kaɪˈmɪərə/, also Chimaera (Chimæra); Greek: Χίμαιρα, Chímaira "she-goat") was, according to Greek mythology, a monstrous fire-breathing hybrid creature of Lycia in Asia Minor, composed of the parts of more than one animal. It is usually depicted as a lion, with the head of a goat arising from its back, and a tail that might end with a snake's head, and was a sibling of such monsters as Cerberus and the Lernaean Hydra.
Personality
18th Chimera birth defect on site.
2nd Chimera 1 specifically.

Preferences
N/A

Special Skills
- Clear lines!
- 2nd gen.
- Chimera 1 birth defect.
- Rare! Amethyst eyes.
- Legendary! Dark Grey Snow Nose.
- Legendary! Gunmetal base coat.
- "Hero" wolf (+11 vitals).
- Customized September 5th, 2018.



Total Character Points: 2880

Here is a list of creatures this wolf has defeated.



Squirrel
92

Rabbit
101

Pheasant
129

Deer
66

Elk
34

Chipmunk
109

Turkey
157

Moose
80

Red Fox
131

Badger
137

Boar
133

Wolverine
124

Bobcat
113

Mountain Lion
104

Coyote
153

Brown Bear
109

Woodchuck
62

Skunk
95

Raccoon
109

Opossum
166

Hedgehog
175

Beaver
69

Armadillo
95

Ant Eater
68

Stallion
1

Bullfrog
23

Rice Rat
34

Marsh Rabbit
35

Anhinga
29

Otter
33

Wood Duck
40

Rhea
29

Sandhill Crane
45

Nutria
26

Tapir
34

Capybara
29

Black Bear
18

Rattlesnake
57

Snapping Turtle
36

Ocelot
27

Copperhead
33

Alligator
16

Jaguar
19

Water Moccasin
33

Caiman
24

Black Panther
13

Big Foot
5

Rougarou
1

Baboon
35

Leopard
23

Mamba
55

Crocodile
20

Jaguar
47

Sun Bear
56

Anaconda
54

Margay
36

Death Adder
76

Capybara
46

Tapir
45

Antelope
45

Water Buffalo
11

Spider Monkey
65

Sloth
57

Okapi
24

Elephant
2

Flying Fox
44

Bongo
36

Bandicoot
59

Green Python
69

Komodo Dragon
65

Vicuna Wolf
48

Poison Dart Frog
61

Peccary
49

Coatimundi
41

Weretiger
1

Bengal Tiger
48

Caribou
13

Arctic Hare
42

Musk Ox
1

Rock Ptarmigan
12

Harlequin Duck
12

Ground Squirrel
26

Snowshoe Hare
26

Reindeer
4

Puffin
11

Moose
11

Lemming
21

Polar Bear
29

Arctic Fox
56

Ermine
42

Grizzly Bear
16

Wolverine
35

Red Fox
49

Undead Bear
22

Undead Brad
19

Undead Larry
15

Hans Trapp
1

Gryla
1

Eve
5

Dip
7

Moddey Dhoo
10

Gwyligi
9

Yeth Hound
3

Gytrash
13

Gwyn ap Nudd
25
Import This Wolf Into The Custom Maker