Hourly Damage Variances

| | |
| --- | --- |
| | Bengal Tiger : +4 |
| | Vicuna Wolf : -1 |
| | Black Bear : +3 |
Season: Summer Month: 1 Weather: Clear Moon:

Wolf Page


---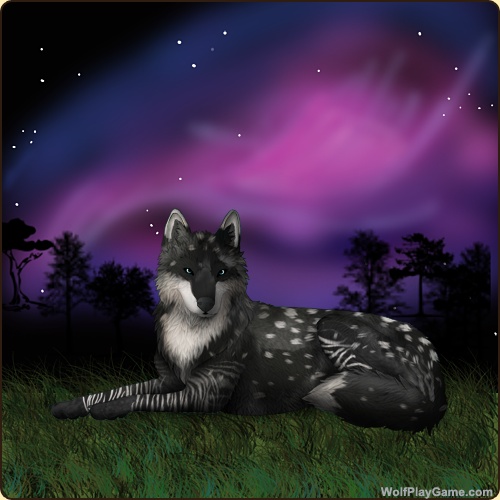 ---

Wolf Play is a fun game! Sign Up Now!


| | |
| --- | --- |
| | 1 Paws Up |
Wolf Number: 1953266
Gender: Female
Age: Deceased
Deathdate: Feb 25, 2019
Death Age: 16
Pack: The Heavens
Breeder: STS
Rank:
Weight: 136 Pounds
Total Battle Earnings: 0
Total Mush Found: 0

Birthdate: Aug 30, 2018
Sire: ☾✰ Laban ★
Dam: ☾✰ Kyla S
Mood: Content
Battle Experience: 0
Playfulness: High
Birth Defect: Vitiligo 1
Boost: None

Offspring Count: 27
Bred This Year: 0
Total Times Bred: 9
Affinity W/Your Pack: Bad
Talent: None
Injury: None
Sales History
Eyes: Aqua (Uncommon)
Nose: Black (Common)
Inner Ears: White
Base Coat: Obsidian (Common)
Leg Type: Stripes
Leg Color: White

Head Type: Frontal
Head Color: White
Tail Type: Tip
Muzzle Type: Stripe
Muzzle Color: Blue

Back Type: Side Splash
Back Color: Blue
Piebald 1: Blue
Okapi: Blue
Speckle Type: Full
Speckle Color: White
Ear Edges Type: Half
Ear Edges Color: White

Rarity Score: 38
Biography
"Hero's Daughter"

Her Bloodline will continue with this defect, Vitiligo despite the inbreeding

With the biggest Thanks, to Dawn Shadows, Vox, Ghost and Crescent for submitting awesome and amazing customs ideas for her makeup. They are amazing and helpful packs who require all the love and care in the world. So treat them with respect
Personality
N/A

Preferences
The Curious Princess By Zodiacs Descendants

Special Skills
N/A



Total Character Points: 294

Here is a list of creatures this wolf has defeated.


Import This Wolf Into The Custom Maker
Copy Wolf Image