Hourly Damage Variances

| | |
| --- | --- |
| | Snapping Turtle : -4 |
| | Red Fox : +4 |
| | Crocodile : +5 |
Season: Winter &nbsp Month: 2 &nbsp Weather: Light Snow
Time Of Day: Night

Wolf Page


---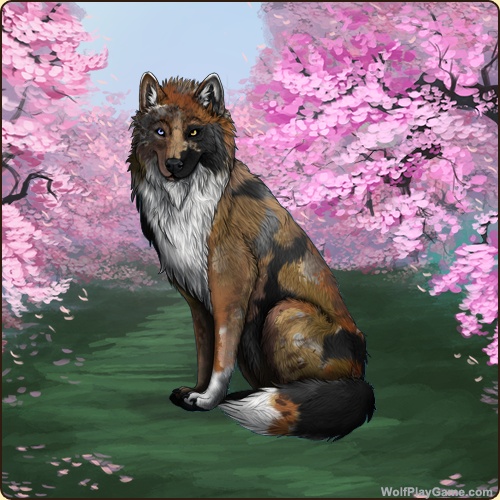 ---

Wolf Play is a fun game! Sign Up Now!


| | |
| --- | --- |
| | 1 Paws Up |
Wolf Number: 1937008
Gender: Female
Age: Deceased
Deathdate: Mar 25, 2019
Death Age: 19
Pack: The Heavens
Breeder: Blau Rosette
Rank:
Weight: 132 Pounds
Total Battle Earnings: 389
Total Mush Found: 30

Birthdate: Aug 22, 2018
Sire: #369M (Divine Shadows) DH G3
Dam: ☿ Pandora
Mood: Content
Battle Experience: 109
Playfulness: Very High
Birth Defect: Chimera 2
Boost: None

Offspring Count: 47
Bred This Year: 0
Total Times Bred: 16
Affinity W/Your Pack: Good


Talent: Stealth Luck Maternal Empathy Morals Wisdom Battle Agility


Talent Count: 11
Injury: None
Sales History
Eyes: Light Blue (Common)
Nose: Black (Common)
Inner Ears: White
Base Coat: Cream (Common)
Leg Type: Left Sock
Leg Color: White

Head Type: Throat
Head Color: White
Tail Type: Tip
Muzzle Type: Stripe
Muzzle Color: Tan
Harlequin: Grey
Somatic Mutation: Red

Back Type: Side Splash
Back Color: Chocolate
Shoulder: Chocolate
Brindle: White
Piebald 2: Brown
Belton: Hickory
Okapi: Cream
Leopard: Chocolate
Speckle Type: Full
Speckle Color: Black
Ear Edges Type: Tip
Ear Edges Color: White

Rarity Score: 55
Biography
designed by a close friend for her birthday!
~Customised on the 6/10/18~
~do not steal her pelt~

-Name: Roseville
-Generation: 4th
-Talents: 11
-Rarity: 55
-Clean Lined: Yes
-Defect: Chimera 2
-Boost: N/A
-Major wolves in lines: Pandora, Cenek, Haserin
-Heavyweight: Yes
-Hero: No
Personality
A big thank you too Pack Alpha for letting me have this beauty! :)
Formally known as Riley

Preferences
Will put up for public/Private breeding!
Pm me to reserve a place, (you get all pups,)
Reservations are 50 mush :)

Spring 1- 600 mush
>
Summer- 600 mush
>
Autumn- 600 mush
~reserved~
>
Any extras you have to supply e.g fertility figurine, butchers broom...

Special Skills
N/A



Total Character Points: 738

Here is a list of creatures this wolf has defeated.



Squirrel
24

Rabbit
42

Deer
1

Elk
1

Turkey
1

Moose
1

Red Fox
8

Badger
6

Bobcat
2

Mountain Lion
4

Coyote
2

Skunk
3

Baboon
4

Capybara
1

Tapir
1

Flying Fox
1

Vicuna Wolf
1

Dip
2

Moddey Dhoo
1

Gwyn ap Nudd
1
Import This Wolf Into The Custom Maker