Hourly Damage Variances

| | |
| --- | --- |
| | Grizzly Bear : +1 |
| | Water Moccasin : -5 |
| | Copperhead : +3 |
Season: Winter &nbsp Month: 2 &nbsp Weather: Light Snow
Time Of Day: Night

Wolf Page


---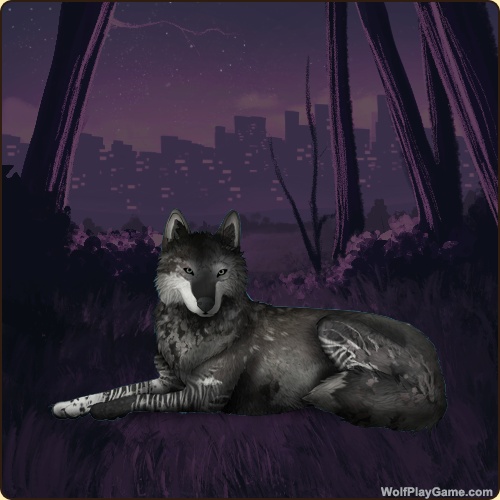 ---

Wolf Play is a fun game! Sign Up Now!


| | |
| --- | --- |
| | 2 Paws Up |
Wolf Number: 1869758
Gender: Female
Age: Deceased
Deathdate: Jan 14, 2019
Death Age: 18
Pack: The Heavens
Breeder: Starpelt Pack
Rank:
Weight: 130 Pounds
Total Battle Earnings: 3760
Total Mush Found: 0

Birthdate: Jul 14, 2018
Sire: Unknown
Dam: Unknown
Mood: Content
Battle Experience: 758
Playfulness: Medium
Birth Defect: None
Boost: Divine Health

Offspring Count: 116
Bred This Year: 1
Total Times Bred: 38
Affinity W/Your Pack: Ok


Talent: Stealth Maternal Empathy Morals Composure Battle Charisma Spirituality


Talent Count: 10
Injury: None
Sales History
Eyes: Grey (Legendary)
Nose: Black (Common)
Inner Ears: Silver
Base Coat: Obsidian (Common)
Leg Type: Stripes
Leg Color: Silver

Head Type: Cheeks
Head Color: Silver
Tail Type: Tip
Muzzle Type: Stripe
Muzzle Color: Blue
Harlequin: Black
Somatic Mutation: Blue

Back Type: Rough
Back Color: Slate
Shoulder: Black
Brindle: Black
Piebald 0: Blue
Belton: Blue
Okapi: Silver
Leopard: Black
Speckle Type: Shoulder
Speckle Color: Silver
Ear Edges Type: Full
Ear Edges Color: Black

Rarity Score: 64
Biography
Death In Vegas: Soul Auctioneer

https://www.youtube.com/watch?v=ggBHao675Pk
Personality
We're all longing for something, aren't we? This alluring she-wolf knows what your heart desires and will get it for you... for a price. Treasures? Vengeance? Glory? The love of a special someone? Just ask Soul Auctioneer and she'll be probably able to grant your wishes. The catch is in her name.

No one knows where she came from or what she was doing before appearing at the borders of the Territory asking to join the Pack but many suspect that she might not even be a wolf but something else wearing a wolf's disguise. She'll just give you a cryptic smile if you ask her...

This demonic beauty and extremely talented dealer is largely useful for Vox Nihili's pack, providing vast resources, contacts and rare items besides being a strong and resilient Battle wolf... yet her very presence often sends chills down pack members' spine. She's elegant, confident, entertaining and very sociable but there's just something terribly off about her.

Soul Auctioneer tends to disappear and return carrying the scent of faraway big cities and humans. Some scouts have reported seeing her changing shape but there's no proof of that.

She was the one who ultimately found means for Morituri Te Salutant to cheat Death and to prolong his life - but she never offered solutions for his curse; probably because the War Leader had no soul to sell anymore...

Preferences
Customized on 24. July 2018.
Was trained by Luminescence to 526 BE.

Special Skills
♆ Custom
♆ 64 Rarity (55 without the eyes)
♆ 10 Talents
♆ Clean Heritage
♆ 1. gen
♆ Heavy Weight
♆ Excellent Howler
♆ Boost: Divine Health
♆ Damage: 32



Total Character Points: 972

Here is a list of creatures this wolf has defeated.



Squirrel
177

Rabbit
209

Elk
1

Moose
1

Red Fox
75

Badger
65

Bobcat
1

Mountain Lion
7

Coyote
3

Brown Bear
5

Caiman
1

Baboon
4

Leopard
2

Crocodile
28

Sun Bear
10

Margay
1

Tapir
3

Antelope
1

Water Buffalo
1

Okapi
4

Bongo
9

Green Python
1

Komodo Dragon
1

Vicuna Wolf
2

Bengal Tiger
24

Cougar
2

Bobcat
5

Longhorn Cattle
1

Bison
1

Bighorn Sheep
3

Ibex
3

Mule Deer
3

Moose
6

Mountain Goat
4

Bighorn Sheep
11

Elk
2

Cougar
11

Leopard
6

Black Bear
1

Caribou
12

Musk Ox
4

Reindeer
9

Moose
11

Polar Bear
15

Undead Bear
1

Undead Brad
3

Yule Lad
1

Belsnickel
1

Eve
1

Gwyn ap Nudd
3
Import This Wolf Into The Custom Maker