Hourly Damage Variances

| | |
| --- | --- |
| | Grizzly Bear : +2 |
| | Rattlesnake : +4 |
| | Bobcat : -4 |
Season: Winter Month: 1 Weather: Light Snow Moon:
Time Of Day: Night

Wolf Page


---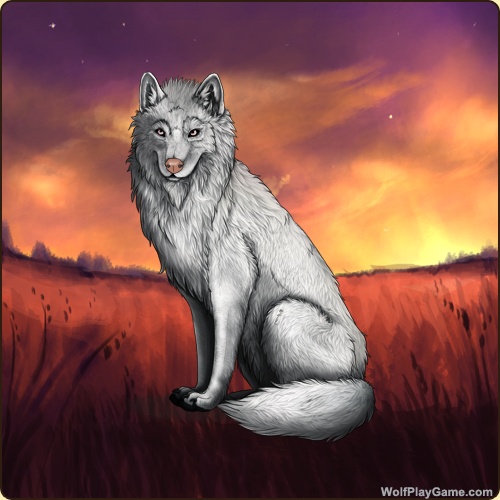 ---

Wolf Play is a fun game! Sign Up Now!


| | |
| --- | --- |
| | 0 Paws Up |
Wolf Number: 1806830
Gender: Female
Age: Deceased
Deathdate: Dec 17, 2018
Death Age: 17
Pack: The Heavens
Breeder: Vox Nihili
Rank:
Weight: 150 Pounds
Total Battle Earnings: 70898
Total Mush Found: 17323

Birthdate: Jun 3, 2018
Sire: Anxiety CL 3G
Dam: Cosey Tutti Fanni
Mood: Content
Battle Experience: 16885
Playfulness: Medium
Birth Defect: Albino
Boost: Divine Health

Offspring Count: 45
Bred This Year: 1
Total Times Bred: 15
Affinity W/Your Pack: Ok
Talent: None
Injury: None
Sales History
Eyes: Blue-Brown (Common)
Nose: Dark Liver (Common)
Base Coat: Cream (Common)
Leg Type: None
Leg Color: Red

Head Type: None
Head Color: Red
Muzzle Type: None
Muzzle Color: Cream

Back Type: Half
Back Color: None
Belton: White
Speckle Type: Shoulder
Speckle Color: White
Ear Edges Type: None
Ear Edges Color: White

Rarity Score: 16
Biography
Moloko: Fun For Me

https://www.youtube.com/watch?v=EOXlJfJ-OgA
▬▬▬▬▬▬▬▬▬▬▬▬▬▬▬▬▬▬▬▬▬
Her name means "Milk" in Russian.
▬▬▬▬▬▬▬▬▬▬▬▬▬▬▬▬▬▬▬▬▬
Top 10 Battle Wolf award gained on 24. July 2018
▬▬▬▬▬▬▬▬▬▬▬▬▬▬▬▬▬▬▬▬▬
Top 5 Battle Wolf award gained on 8. August 2018.
▬▬▬▬▬▬▬▬▬▬▬▬▬▬▬▬▬▬▬▬▬
Number 1 Battle Wolf award gained on 30. October 2018 following the death of Ostia.
▬▬▬▬▬▬▬▬▬▬▬▬▬▬▬▬▬▬▬▬▬
Personality
The first Albino with a Divine blessing born into the Pack, Moloko was destined for greatness. She's a talented Healer and an Alchemist, experimenting with herbs, narcotic plants and various strange components to create substances that speed up the healing process of injured Packmates or enhance their senses, their endurance or their strength.

But Moloko is far from being a reserved shaman; on the contrary, she's an extremely vicious and efficient Battle Wolf; not only is she skilled and resilient but her more advanced elixirs make her an unstoppable and fearless berserk. She was often accompanying the Elite on their hunts as a juvenile and after the death of Leichenschrei, she became a member.

She's an imaginative, creative soul with a determination for both tending her wounded comrades and causing mayhem among her enemies. She's carefree and usually gets along well with almost all Pack members; she'd rather spend what little free time she has on her experiments than on what she considers petty disputes and infightings. Moloko is also a very Spiritual wolf, always asking for the Blessing of the Dead for her unusual thaumaturgy.
She became the best warrior in the Realm after Ostia's death.

Preferences
N/A

Special Skills
♆ 16 Rarity
♆ Clean Heritage
♆ 5. gen
♆ Heavy Weight
♆ Excellent Wrestler
♆ Birth Defect: Albino
♆ Boost: Divine Health
♆ Damage: 32



Total Character Points: 2289

Top 10 Battle Wolf - Moloko
(147)
Top 5 Battle Wolf - Moloko
(132)
Number 1 Battle Wolf - Moloko
(49)
Here is a list of creatures this wolf has defeated.



Squirrel
278

Rabbit
280

Pheasant
82

Deer
50

Elk
31

Chipmunk
61

Turkey
62

Moose
21

Red Fox
212

Badger
262

Boar
167

Wolverine
145

Bobcat
133

Mountain Lion
11

Coyote
150

Brown Bear
3

Woodchuck
55

Skunk
68

Raccoon
49

Opossum
60

Hedgehog
77

Beaver
55

Armadillo
77

Ant Eater
49

Bullfrog
11

Rice Rat
10

Marsh Rabbit
11

Anhinga
6

Otter
6

Wood Duck
6

Rhea
5

Sandhill Crane
3

Nutria
5

Tapir
9

Capybara
4

Black Bear
1

Rattlesnake
12

Snapping Turtle
8

Ocelot
3

Copperhead
8

Alligator
1

Jaguar
2

Water Moccasin
10

Black Panther
6

Big Foot
3

Rougarou
1

Baboon
338

Leopard
293

Mamba
377

Crocodile
41

Jaguar
362

Sun Bear
34

Anaconda
506

Margay
366

Death Adder
452

Capybara
323

Tapir
339

Antelope
398

Water Buffalo
15

Spider Monkey
400

Sloth
416

Okapi
158

Elephant
4

Flying Fox
350

Bongo
249

Bandicoot
423

Green Python
493

Komodo Dragon
443

Vicuna Wolf
359

Poison Dart Frog
417

Peccary
364

Coatimundi
343

Weretiger
19

Bengal Tiger
40

Cougar
9

Coyote
42

Grey Fox
37

Jackal
30

Spotted Hyena
23

Cheetah
29

Bobcat
32

Thorny Devil
16

Pronghorn
4

Kangaroo Rat
15

Javelina
11

Gila Monster
14

Longhorn Cattle
3

Jackrabbit
24

Bison
2

Gopher
14

Bactrian Camel
8

Bighorn Sheep
2

Pika
93

Ibex
20

Mule Deer
29

Snowshoe Hare
106

Moose
34

Beaver
87

Mountain Goat
24

Hyrax
105

Alpaca
91

Bighorn Sheep
17

Rat
103

Elk
60

Yeti
1

Grizzly Bear
4

Red Fox
122

Western Rattlesnake
122

Bobcat
162

Cougar
43

Jackal
145

Mojave Green Rattler
140

Leopard
81

Coyote
143

Black Bear
3

Caribou
62

Arctic Hare
205

Musk Ox
20

Rock Ptarmigan
181

Harlequin Duck
157

Ground Squirrel
233

Snowshoe Hare
166

Reindeer
96

Puffin
188

Moose
37

Lemming
196

Polar Bear
117

Arctic Fox
501

Ermine
425

Grizzly Bear
16

Wolverine
445

Red Fox
442

Brent Goose
1

Amarok
5

Undead Bear
63

Undead Brad
43

Undead Larry
49

Yule Lad
13

Pere Fouettard
5

Krampus
21

Jolakolturin
18

Hans Trapp
17

Gryla
6

Frau Perchta
16

Belsnickel
16

Eve
8

Dip
30

Moddey Dhoo
16

Gwyligi
28

Yeth Hound
22

Gytrash
33

Gwyn ap Nudd
43
Import This Wolf Into The Custom Maker