Hourly Damage Variances

| | |
| --- | --- |
| | Red Fox : +2 |
| | Ocelot : +4 |
| | Mamba : -5 |
Season: Winter &nbsp Month: 2 &nbsp Weather: Light Snow
Time Of Day: Day

Wolf Page


---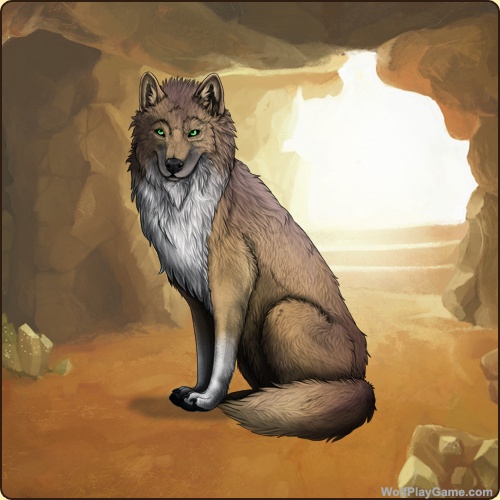 ---

Wolf Play is a fun game! Sign Up Now!


| | |
| --- | --- |
| | 0 Paws Up |
Wolf Number: 1718474
Gender: Female
Age: Deceased
Deathdate: Sep 10, 2018
Death Age: 17
Pack: The Heavens
Breeder:
Rank:
Weight: 123 Pounds
Total Battle Earnings: 275
Total Mush Found: 460

Birthdate: Mar 26, 2018
Sire: Unknown
Dam: Unknown
Mood: Content
Battle Experience: 173
Playfulness: Medium
Birth Defect: None
Boost: None

Offspring Count: 34
Bred This Year: 1
Total Times Bred: 12
Affinity W/Your Pack: Bad
Talent: None
Injury: None
Sales History
Eyes: Green (Common)
Nose: Black (Common)
Base Coat: Tan (Common)
Leg Type: Low
Leg Color: Silver

Head Type: Throat
Head Color: Silver
Muzzle Type: Wide
Muzzle Color: Slate

Rarity Score: 6
Biography


Breed Type




Howler and Wrestler

Personality


Major pups




June 17 - G2 Surpassing Valor Howler Male
https://wolfplaygame.com/wolf.php?id=1824844&cchan=ad

Preferences
N/A

Special Skills
Mang of BT21



Total Character Points: 939

Here is a list of creatures this wolf has defeated.



Squirrel
45

Rabbit
38

Pheasant
2

Deer
1

Red Fox
22

Badger
29

Boar
4

Wolverine
3

Big Foot
1

Baboon
2

Tapir
1

Cougar
7

Coyote
4

Thorny Devil
6

Pronghorn
8
Import This Wolf Into The Custom Maker