Hourly Damage Variances

| | |
| --- | --- |
| | Red Fox : +2 |
| | Ocelot : +4 |
| | Mamba : -5 |
Season: Winter &nbsp Month: 2 &nbsp Weather: Light Snow
Time Of Day: Day

Wolf Page


---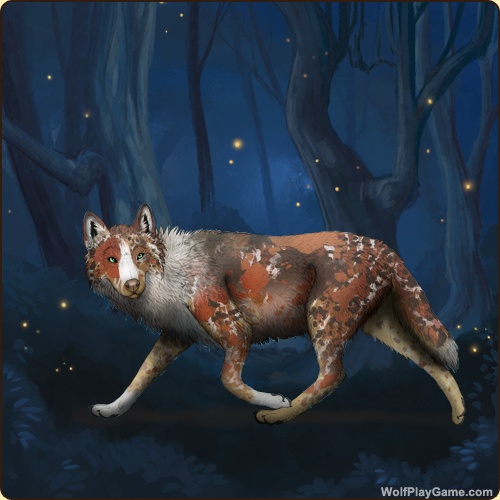 ---

Wolf Play is a fun game! Sign Up Now!


| | |
| --- | --- |
| | 24 Paws Up |
Wolf Number: 1661628
Gender: Male
Age: Deceased
Deathdate: Sep 17, 2018
Death Age: 19
Pack: The Heavens
Breeder: Lostsalt
Rank:
Weight: 118 Pounds
Total Battle Earnings: 36923
Total Mush Found: 11675

Birthdate: Feb 13, 2018
Sire: Haserin 1G HEAVY 330T ✡
Dam: Minty Lynx
Mood: Content
Battle Experience: 7177
Playfulness: High
Birth Defect: None
Boost: None

Offspring Count: 142
Bred This Season: 1
Total Times Bred: 36
Affinity W/Your Pack: Bad


Talent: Stealth Perception Luck Maternal Social Empathy Morals Resolve Composure Wisdom Battle Charisma Agility Spirituality


Talent Count: 93
Injury: None
Sales History
Eyes: Green (Common)
Nose: Dark Liver (Common)
Inner Ears: White
Base Coat: Sun Glow (Common)
Leg Type: Front Socks
Leg Color: White

Head Type: Throat
Head Color: White
Tail Type: Tip
Muzzle Type: Stripe
Muzzle Color: White
Harlequin: Red

Back Type: None
Back Color: White
Shoulder: Red Merle
Brindle: White
Piebald 1: Hickory
Leopard: Hickory
Speckle Type: Full
Speckle Color: None
Ear Edges Type: Tip
Ear Edges Color: Hickory

Rarity Score: 37
Biography
Just a ref.



Dragon list.

Night Fury:

Shrouding Fog: A stealth dragon who hides itself in fog, weapon undecided.

Night Star: A night sky like pattern on the scales, weapon undecided.

Violet Nightmare: A lightening based, possibly purple scaled.

The Lunatic: The mother dragon of the group, more powerful under the moon, and able to drive those closest to her mad with a poisonous gas. Also can control the other dragons.
Personality
N/A

Preferences
N/A

Special Skills
Newt howls mornfully to Locke of pack Asgard

Newt howls in sorrow

Newt falls down



Total Character Points: 2900

Top 10 Battle Wolf - Newt
(72)
Top 5 Total Mush Found - Newt
(23)
Top 10 Total Mush Found - Newt
(30)
Here is a list of creatures this wolf has defeated.



Squirrel
164

Rabbit
183

Pheasant
34

Deer
35

Elk
33

Chipmunk
21

Turkey
42

Moose
27

Red Fox
92

Badger
102

Boar
67

Wolverine
80

Bobcat
52

Mountain Lion
46

Coyote
58

Brown Bear
74

Woodchuck
30

Skunk
27

Raccoon
16

Opossum
31

Hedgehog
13

Beaver
28

Armadillo
24

Ant Eater
17

Big Foot
1

Baboon
175

Leopard
134

Mamba
181

Crocodile
125

Jaguar
200

Sun Bear
195

Anaconda
203

Margay
171

Death Adder
122

Capybara
144

Tapir
142

Antelope
193

Water Buffalo
42

Spider Monkey
108

Sloth
89

Okapi
40

Elephant
25

Flying Fox
156

Bongo
133

Bandicoot
75

Green Python
123

Komodo Dragon
194

Vicuna Wolf
167

Poison Dart Frog
93

Peccary
102

Coatimundi
151

Weretiger
10

Bengal Tiger
147

Cougar
4

Coyote
6

Grey Fox
4

Jackal
5

Black Bear
1

Spotted Hyena
6

Cheetah
4

Bobcat
4

Thorny Devil
1

Pronghorn
2

Kangaroo Rat
3

Javelina
2

Gila Monster
1

Longhorn Cattle
2

Jackrabbit
3

Bison
3

Bactrian Camel
1

Bighorn Sheep
3

Ibex
1

Mule Deer
1

Snowshoe Hare
1

Mountain Goat
3

Alpaca
1

Bighorn Sheep
5

Rat
1

Grizzly Bear
1

Red Fox
1

Western Rattlesnake
1

Bobcat
6

Cougar
4

Leopard
2

Black Bear
3

Caribou
120

Arctic Hare
83

Musk Ox
57

Rock Ptarmigan
57

Harlequin Duck
100

Ground Squirrel
77

Snowshoe Hare
101

Reindeer
91

Puffin
70

Moose
103

Lemming
64

Polar Bear
144

Arctic Fox
242

Ermine
184

Grizzly Bear
106

Wolverine
252

Red Fox
280

Amarok
4

Eve
18
Import This Wolf Into The Custom Maker