Refresh

You must be a registered member for more
than 1 day before you can use our chatbox.

Hourly Damage Variances

| | |
| --- | --- |
| | Komodo Dragon : +4 |
| | Coyote : -3 |
| | Black Panther : -4 |
Season: Winter Month: 3 Weather: Light Snow Moon:

| | |
| --- | --- |
| Time Of Day: Night | Explore In: Now |

Wolf Page


---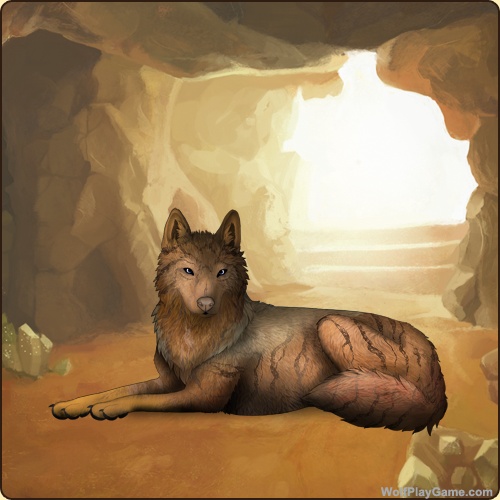 ---

Wolf Play is a fun game! Sign Up Now!


| | |
| --- | --- |
| | 4 Paws Up |
Wolf Number: 3158291
Gender: Female
Age: 12
Pack: Freedom
Breeder: Hurricane blizzards
Rank: Omega
Weight: 107 Pounds
Total Battle Earnings: 1793
Total Mush Found: 543

Cannot Breed
Birthdate: Nov 19, 2020
Sire: Chase
Dam: leaf
Mood: Content
Battle Experience: 456
Playfulness: High
Birth Defect: None
Boost: None

Offspring Count: 11
Bred This Year: 0
Total Times Bred: 5
Affinity W/Your Pack: Ok


Talent: Perception Maternal Wisdom


Talent Count: 3
Injury: None
Sales History
Eyes: Dark Blue (Common)
Nose: Liver (Common)
Base Coat: Brown (Common)
Leg Type: Mitts
Leg Color: None

Head Type: Frontal
Head Color: None
Tail Type: Half

Back Type #2: Half
Back Color #2: None
Shoulder: Cream
Brindle: Hickory

Rarity Score: 11
| | | | | | |
| --- | --- | --- | --- | --- | --- |
| Nose Pushing | Unlock | Unlock | Unlock | Unlock | Unlock |

Play Level: 1 (4) Play Points: 4
Biography


"So sage for one with such fire within."

Sagefire never intended to be part of this pack, nor did she intend to leave her own pack. She used to run in the lush green valleys and fields. She used to feel the pawbeats or her mate Faolan drumming into her heart. But despite all this, she has not given up just yet. She saved her pack so that the only place for her to go was the arid desert. When the humans encroached on their territory, she chose to stop the bloodshed and send her pack their separate ways, knowing they could never find another home. Things weren't like they had been so long ago. And with nobody left to take her and no mate to love her like the stars shine, she chose to come here.

Personality



Sagefire is stronger than she looks. Old, infertile, with a lost pack, a lost mate, and no children to care for, you'd think she would have given up. Think again. Sagefire knows enough to know she's stronger than that. She lost everything, and it broke her heart. But she's been in this position before. She had the will to lead where others would falter. She can find that will now.



Preferences



Sagefire is partnered with Rather. She looks after the camp while others are away, tends to the pups, and facilitates small repairs. She's something like the maid/nanny. She rarely ever leaves the camp.



Special Skills



Normal Weight
G?
Parents: 50+ vitals
No Significant Offspring
Hero +26





Total Character Points: 2807

Here is a list of creatures this wolf has defeated.



Squirrel
62

Rabbit
66

Pheasant
37

Deer
14

Elk
1

Chipmunk
6

Turkey
10

Red Fox
34

Badger
28

Boar
20

Wolverine
21

Bobcat
7

Mountain Lion
13

Coyote
6

Brown Bear
2

Bullfrog
47

Rice Rat
25

Marsh Rabbit
15

Rattlesnake
18

Alligator
5

Yule Lad
1

Gryla
2

Eve
3

Nordic Warrior Man
1

Nordic Warrior Woman
2

Young Fenrir
1
Import This Wolf Into The Custom Maker
Copy Wolf Image