Hourly Damage Variances

| | |
| --- | --- |
| | Red Fox : +2 |
| | Ocelot : +4 |
| | Mamba : -5 |
Season: Winter &nbsp Month: 2 &nbsp Weather: Light Snow
Time Of Day: Day

Wolf Page


---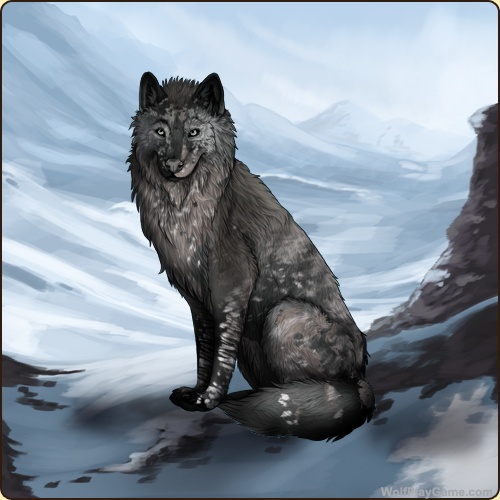 ---

Wolf Play is a fun game! Sign Up Now!


| | |
| --- | --- |
| | 1 Paws Up |
Wolf Number: 1928245
Gender: Female
Age: Deceased
Deathdate: Jan 14, 2019
Death Age: 15
Pack: The Heavens
Breeder: Mouse
Rank:
Weight: 79 Pounds
Total Battle Earnings: 2041
Total Mush Found: 10

Birthdate: Aug 19, 2018
Sire: Unknown
Dam: Unknown
Mood: Content
Battle Experience: 607
Playfulness: Medium
Birth Defect: None
Boost: Divine Health

Offspring Count: 51
Bred This Year: 1
Total Times Bred: 18
Affinity W/Your Pack: Ok


Talent: Perception Empathy


Talent Count: 2
Injury: None
Sales History
Eyes: Grey (Legendary)
Nose: Dark Grey Snow Nose (Legendary)
Inner Ears: Blue
Base Coat: Winter (Dynamic)
Leg Type: Stripes
Leg Color: Blue

Head Type: Tears
Head Color: Blue
Tail Type: Three Rings
Muzzle Type: Stripe
Muzzle Color: Blue
Harlequin: Blue
Somatic Mutation: Blue

Back Type: Crest
Back Color: Black
Shoulder: Black
Brindle: Blue
Piebald 2: Slate
Belton: Silver
Okapi: Slate
Leopard: Blue
Speckle Type: Full
Speckle Color: Blue
Ear Edges Type: Full
Ear Edges Color: Blue

Rarity Score: 118
Biography
Allerseelen: Neuschwabenland

https://www.youtube.com/watch?v=cMDfAHSDqic
▬▬▬▬▬▬▬▬▬▬▬▬▬▬▬▬▬▬▬▬▬
I got this awesome girl from the ever generous Mouse! Thank you so much <3 <3 <3
▬▬▬▬▬▬▬▬▬▬▬▬▬▬▬▬▬▬▬▬▬
Her name means "All Souls" in German.
Personality
N/A

Preferences
Was trained by HeavyChaos🐺 to 525 BE

Special Skills
♆ 118 Rarity
♆ 2 Talents
♆ Clean Heritage
♆ 1. gen
♆ Excellent Wrestler
♆ Dynamic Pelt: Winter
♆ Boost: Divine Health
♆ Damage: 22



Total Character Points: 830

Here is a list of creatures this wolf has defeated.



Squirrel
275

Rabbit
108

Pheasant
9

Red Fox
62

Badger
66

Boar
5

Mountain Lion
1

Black Panther
1

Baboon
6

Leopard
3

Crocodile
10

Sun Bear
3

Tapir
1

Water Buffalo
3

Bengal Tiger
8

Bobcat
1

Ibex
1

Mule Deer
1

Moose
6

Mountain Goat
1

Alpaca
2

Bighorn Sheep
5

Elk
1

Cougar
3

Leopard
1

Caribou
2

Musk Ox
5

Reindeer
2

Moose
3

Polar Bear
2

Grizzly Bear
4

Jolakolturin
1

Gryla
1

Eve
1

Gwyn ap Nudd
3
Import This Wolf Into The Custom Maker