Hourly Damage Variances

| | |
| --- | --- |
| | Grey Fox : -5 |
| | Spotted Hyena : +2 |
| | Copperhead : +2 |
Season: Summer &nbsp Month: 2 &nbsp Weather: Sunny
Time Of Day: Day

Wolf Page


---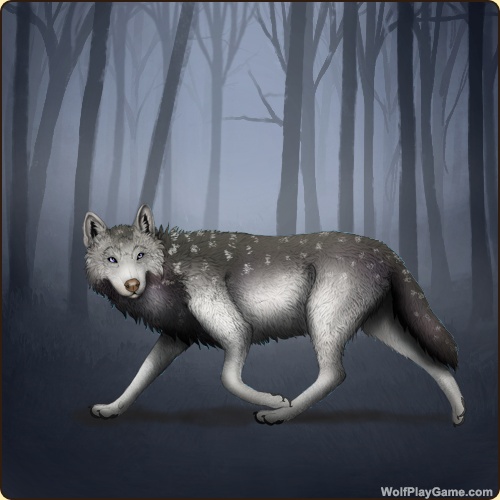 ---

Wolf Play is a fun game! Sign Up Now!


| | |
| --- | --- |
| | 11 Paws Up |
Wolf Number: 1918435
Gender: Male
Age: 11
Pack: Vox Nihili
Breeder: Vox Nihili
Rank: Alpha Male
Weight: 150 Pounds
Total Battle Earnings: 34780
Total Mush Found: 561

Birthdate: Aug 13, 2018
Sire: Argentum Regale
Dam: Overdose
Mood: Fierce
Battle Experience: 8016
Playfulness: High
Birth Defect: Deaf
Boost: Divine Health

Offspring Count: 101
Bred This Season: 0
Total Times Bred: 44
Affinity W/Your Pack: Ok


Talent: Stealth Perception Luck Social Resolve Composure Wisdom Battle Agility Spirituality


Talent Count: 23
Injury: None
Sales History
Currently Bred To
Eyes: Dark Blue (Common)
Nose: Dark Liver (Common)
Base Coat: Silver (Common)
Leg Type: None
Leg Color: Black

Head Type: Throat
Head Color: Black
Tail Type: Full
Muzzle Type: Wide
Muzzle Color: White
Harlequin: Silver

Back Type: Full
Back Color: Black
Brindle: Silver
Speckle Type: Full
Speckle Color: White
Ear Edges Type: None
Ear Edges Color: Hickory

Rarity Score: 25
| | | | | | |
| --- | --- | --- | --- | --- | --- |
| Nose Pushing | Jaw Wrestling | Cheek Rubbing | Facial Licking | Play Bow | Group Howl |

Play Level: 21 (518) Play Points: 18
Biography
Rosa✝Crvx: Eli-Elo

https://www.youtube.com/watch?v=id5HKUJclGY

▬▬▬▬▬▬▬▬▬▬▬▬▬▬▬▬▬▬▬▬▬
Top 10 Battle Wolf award gained on 13. November 2018
▬▬▬▬▬▬▬▬▬▬▬▬▬▬▬▬▬▬▬▬▬
Top 5 Battle Wolf award gained on 3. December 2018
▬▬▬▬▬▬▬▬▬▬▬▬▬▬▬▬▬▬▬▬▬
Personality
Born into a world without sound, into a Pack where any kind of weakness is frowned upon, this deaf and mute wolf had a tough childhood. He was determined to prove his worth, practiced and trained more than his peers, pushing himself to his limits.
After Morituri Te Salutant died and young Pack members started to fight over his spot, Eli-Elo - much to everyone's surprise - managed to beat them and became a member of the Elite and as the Alpha male, the mate of the Leader, Wandering Star.

Eli-Elo is a good natured wolf - something he probably inherited from his famous Lightbringer father. He's extremely tactile, playful, inquisitive, affectionate, empathetic and has a strong sense of honor and duty. He's also very intuitive, his hunches often make up for his lack of hearing.

Eli-Elo is working on developing a rune clawing method that would make it easier to communicate with others. A lot of his Packmates used to mock him but he didn't care; as he advances in his battle capabilities, he gets more and more respect and many appreciate his approachable demeanor.

Preferences
N/A

Special Skills
♆ 25 Rarity
♆ 23 Talents
♆ Clean Heritage
♆ 3. gen
♆ Heavy Weight
♆ Birth Defect: Deaf
♆ Boost: Divine Health



Total Character Points: 2197

Top 10 Battle Wolf - Eli-Elo
(33)
Top 5 Battle Wolf - Eli-Elo
(13)
Here is a list of creatures this wolf has defeated.



Squirrel
201

Rabbit
199

Pheasant
27

Deer
18

Elk
9

Chipmunk
15

Turkey
24

Moose
7

Red Fox
113

Badger
128

Boar
46

Wolverine
42

Bobcat
41

Mountain Lion
17

Coyote
39

Brown Bear
11

Woodchuck
19

Skunk
15

Raccoon
14

Opossum
19

Hedgehog
11

Beaver
25

Armadillo
24

Ant Eater
22

Rat
1

Bullfrog
1

Anhinga
2

Otter
1

Wood Duck
2

Rhea
1

Tapir
1

Rattlesnake
5

Ocelot
1

Copperhead
2

Water Moccasin
3

Baboon
138

Leopard
97

Mamba
180

Crocodile
11

Jaguar
180

Sun Bear
26

Anaconda
213

Margay
146

Death Adder
210

Capybara
149

Tapir
149

Antelope
152

Water Buffalo
13

Spider Monkey
206

Sloth
206

Okapi
60

Elephant
3

Flying Fox
158

Bongo
69

Bandicoot
221

Green Python
246

Komodo Dragon
209

Vicuna Wolf
157

Poison Dart Frog
224

Peccary
163

Coatimundi
156

Weretiger
3

Bengal Tiger
18

Cougar
4

Coyote
19

Grey Fox
18

Jackal
11

Black Bear
3

Spotted Hyena
8

Cheetah
18

Bobcat
8

Thorny Devil
2

Pronghorn
2

Javelina
4

Longhorn Cattle
1

Jackrabbit
1

Gopher
1

Pika
64

Mule Deer
14

Snowshoe Hare
78

Moose
16

Beaver
48

Mountain Goat
18

Hyrax
50

Alpaca
48

Bighorn Sheep
6

Rat
79

Elk
28

Yeti
2

Grizzly Bear
5

Red Fox
69

Western Rattlesnake
66

Bobcat
76

Cougar
25

Jackal
73

Mojave Green Rattler
88

Leopard
36

Coyote
79

Black Bear
6

Caribou
30

Arctic Hare
96

Musk Ox
9

Rock Ptarmigan
80

Harlequin Duck
88

Ground Squirrel
112

Snowshoe Hare
89

Reindeer
46

Puffin
80

Moose
16

Lemming
116

Polar Bear
54

Arctic Fox
212

Ermine
216

Grizzly Bear
12

Wolverine
179

Red Fox
162

Amarok
1

Undead Bear
54

Undead Brad
44

Undead Larry
49

Yule Lad
14

Pere Fouettard
16

Krampus
25

Jolakolturin
17

Hans Trapp
14

Gryla
19

Frau Perchta
10

Belsnickel
26

Eve
6

Dip
29

Moddey Dhoo
31

Gwyligi
22

Yeth Hound
32

Gytrash
30

Gwyn ap Nudd
37
Import This Wolf Into The Custom Maker